Prolonged heavy rainfall on the afternoon of January 9 flooded several streets, residential areas and pedestrian subways in Districts 8, 2, Binh Tan and Binh Chanh in Ho Chi Minh City.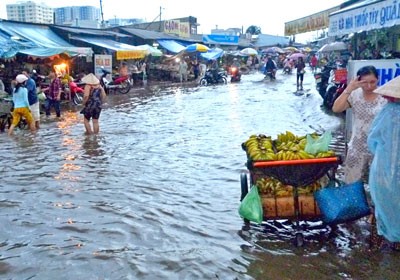 Heavy rain led to flooding on An Duong Vuong Street in Binh Tan District of HCMC on January 9 (Photo: SGGP)
Within one hour of the rainfall, Kinh Duong Vuong Street in Binh Tan District was submerged under 0.3-0.5m of floodwater. Tens of motorbikes suffered engine failure.
Tan Tao Subway in the same district was submerged under half a meter of water. Hundreds of workers from Pou Yuen Company in Tan Tao Industrial Zone could not walk in the flooded subway and had to climb up the steel road divider to cross Highway 1A.
An Duong Vuong Street in Districts 8 and Binh Tan was also inundated, each flooded section stretching hundreds of meters. Water overflowed into houses and shops alongside the streets.
Other streets like Ten Lua in Binh Tan District, Nguyen Thi Dinh in District 2 and Highway 50 in Binh Chanh District were also inundated and faced severe traffic congestion.