Ho Chi Minh City suffered prolonged heavy rains on July 1, which resulted in localized flooding and severe traffic jams.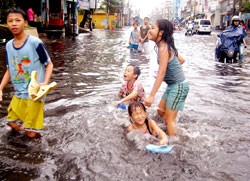 Heavy rain causes flood in Nguyen Thi Nho street, district 11, HCMC. (Photo: SGGP)
The deepest floods occurred in the Bau Cat area, Tan Binh District including Pham Phu Thu, Thoai Ngoc Hau, and Truong Dinh streets.
Many motorbikes suffered engine failure due to the water levels.
Drainage systems in the area are antiquated, with the building of new drainage systems behind schedule.
Hundreds of households in districts 4 and 8 also suffered from flooding.
Many roads in the center of city, such as Tran Hung Dao in District 1 and Dien Bien Phu, District 3, also became flooded, leading to traffic jams.
As Nguyen Huu Canh, Binh Thanh District, generally floods in heavy or light rain, many vehicles suffered from engine failure when caught in the water. 
Traffic at Cay Go roundabout, at the intersection of districts 5, 6 and 11, became chaos, as many motorbikes encroached on the car lane to escape the flood water.
Hang Xanh roundabout, Binh Thach district, was inundated with 30 centimeters of water.
The heavy rains also caused flooding in Dinh Tien Hoang and Ung Van Khiem streets, Binh Thanh District.
According to the Flood Prevention Operations Center, many roads were flooded not just because of heavy rain, but also due to many road works.