Wearing of helmets by motorcyclists while driving on roads has greatly reduced the number of head injury cases in traffic accidents.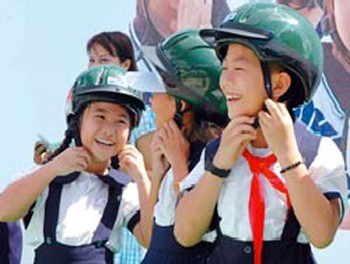 4,000 helmets presented to students of Le Van Tho Primary School in District 12, HCMC (Illustrated photo)
Nguyen Ngoc Tuong from the Ho Chi Minh City Traffic Safety Committee said yesterday that by wearing helmets, the death toll has dropped by 900 people a year while the number of injured people has gone down by 500 a year.
He revealed these statistics at a ceremony where both the  National Traffic Safety Committee and the HCMC Traffic Safety Committee joined hands in presenting 4,000 helmets to children of the Le Van Tho Primary School in District 12.
This was part of a traffic safety project funded by the World Bank to equip 30,000 students in 34 primary schools along highways with helmets.
According to the National Traffic Safety Committee, 2010 saw 13,713 road accidents in Vietnam causing over 11,000 deaths and over 10,000 injury cases.
One of the reasons for fatal accidents was when motorbike drivers and pillion riders did not wear helmets while driving on the road.
Research proves that wearing helmets can greatly reduce the danger of head injury by 69 percent and there is only a 42 percent risk of suffering from skull trauma.