Ho Chi Minh City leaders offered deep gratitude and gifts to the city's heroic Vietnamese mothers in a meeting organized by the city leaders to mark the 60th anniversary of War Invalids and Martyrs' Day (July 27, 1947 – July 27, 2007) at the Windsor Plaza Hotel on 17 July.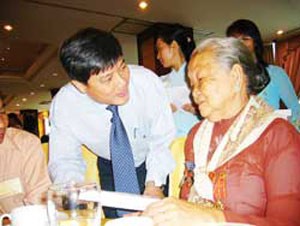 Deputy General Secretary of the City Party Tran Van Dua asks a heroic mother about her health condition

There are 276 heroic mothers in HCMC and the meeting was attended by the one hundred who are still healthy enough to do so.

On behalf of the city's people and the city's authorities, Ms. Nguyen Thi Thu Ha honored the mothers' great contributions and expressed her heartfelt thanks to their boundless sacrifice for the country.

Ms. Ha said, "These heroic mothers have given their life to bring up their children, inspired them with patriotism, valiance and great ambition, and then consecrated them to the cause of independence and freedom of the father land."

Many women not only lost their children to the national liberation war but also their husbands and some lost more than one child. Mother Nguyen Thi Ranh had eight children, all of whom were revolutionary martyrs, mother Nguyen Thi Quach had four children, three of whom sacrificed their lives for the sake of the country's independence.

Now, 32 years on, the city authorities have granted 12,000 houses to beneficiaries of social welfare, built 15,579 houses for families of revolutionary martyrs and offered them 13,000 savings books. Since 1975, the remains of 27,000 revolutionary martyrs have been uncovered and given proper burials in the martyrs' cemeteries.

260 local companies and agencies are working with city authorities to provide monthly financial support to heroic mothers in Ho Chi Minh City, Ben Tre and Quang Nam Province.

The City Committee of Fatherland Front has proposed that companies and agencies raise the monthly financial support from VND 300,000 to VND 500,000. Although city authorities are calling on city residents to provide emotional support for such mothers; as nothing can truly compensate for the pain caused by the loss of their husband and children.

In response to the proposal, Ms. Duong Tu Trinh, director of the Ho Chi Minh City Food Co. has agreed to help provide monthly financial support to 13 heroic mothers in the City, she said, "We are willing to do so. Without these mothers' great sacrifice, without the glorious victory in the spring of 1975, things would be very different."

One such heroic mother receiving support is 75-year-old Dang Thi Lot who lives in Cu Chi, when asked about her current situation she said, "My husband and two children were all martyrs. I now live on their death gratuities and social benefits. I also receive monthly financial support from a company - just enough to support myself."

Tearfully, she added, "I am given monthly medical care and I'm in good health but I live on my own and I feel so lonely."

There are 2,051 women who have been recognized and awarded the title of "Vietnamese Heroic mother" in the city. Many of them passed away before and after being awarded.