A 10-meter-long section of dyke broke at the Rach Gie sewer in Ho Chi Minh City's Thu Duc District submerging 100 houses and three hectares of farmland January 4.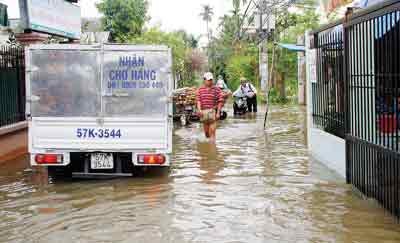 A broken dyke led to severe flooding in HCMC's Thu Duc District on January 4 ( Photo: SGGP)
The dyke reportedly cracked a day earlier but residents shored up the broken area and pumped out floodwater. High tides overnight in the Sai Gon River, however, wrecked the restoration work and flooded other parts of the city.
Residents Vu Thi Tuyet Huong and Thanh Truc said that because the high tides came at night, they didn't have time to move furniture and belongings to safety.
Many others couldn't leave their homes to get to work the next day as traffic severely obstructed their residences.
Some streets including road No. 42 were fully submerged under water, up to 0.5 meters in some places.
Irrigation official Nguyen Van Nga said the dyke was constructed in 2006 and worth VND700 million. However, it was built on soft land with an unstable foundation and each 1.2-meter-long section of the dyke was pre-built and then joined together. When the river tide rises, the dyke is vulnerable to breakage.
The local government conducts the upkeep of the embankment by knocking down cajuput trees along two sides of the dyke and setting them in concrete. However, district officials say they will reinforce the entire dyke to ensure it does break again.
The flooding has also threatened residents' apricot gardens in the area, which many people grow to sell.