High tide level broke last year's record to reach 1.61m by late afternoon on Wednesday, flooding several streets in Districts 2, 7, 8, Binh Thanh, Thu Duc and Binh Tan of Ho Chi Minh City.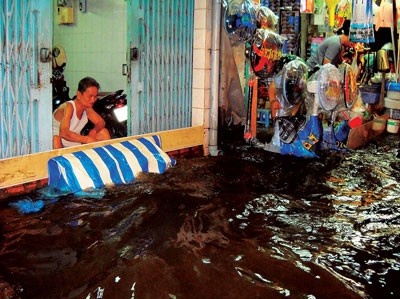 High tide brings muck and dirt onto Ngo Tat To Street in Binh Thanh District on October 17 (Photo: SGGP)
Floodwaters overflowed above the sluice gates inundating Huynh Tan Phat Street in District 7, Ngo Tat To and Ung Van Khiem in Binh Thanh District, Phu Dinh Wharf and Binh Dong Wharf in District 8. Floodwaters also overflowed in rivers and canals, bringing in garbage and muck onto the streets.
Restaurants and households used make-shift barricades of any material they could find to stop floodwaters flowing into buildings and continuously bailed out water from their premises using basins and buckets.
The worst flooded street was Luong Dinh Cua in District 2, with some sections under half a meter of water.
The record high tide on Saigon River also submerged Thu Dau Mot Market, the largest shopping center in the neighboring province of Binh Duong, under 0.4-0.5m of floodwaters. According to traders, the high tide has never been so high before.
 
The Binh Duong Province area is on higher ground than the rest of Ho Chi Minh City but there too high tide inundated some sections.
Parts of Chanh Nghia Ward in Thu Dau Mot City were inundated under 0.5m of floodwaters. Several households have been marooned by floodwaters for the last few days.
High tide continues to rise in the Mekong Delta, causing traffic jams along a slew of streets in Ninh Kieu and Binh Thuy Districts in Can Tho City.
Flooded streets have sent residents' lives into chaos. On Wednesday, several traders in Cai Khe Commercial Center closed their stalls due to floodwaters.
According to the Southern Regional Hydro Meteorological Center, river levels in the southern region are surging and will reach peak levels by October 17-19.
Meteorologists in Can Tho City forecast that the high tide will peak at 2.05-2.10m on the Hau River.
Related article:
Heavy rain, high tide floods several streets in HCMC