High tide receded to 1.63m on October 11 after reaching its peak of 1.68m in the previous day and continued inundating several areas in Ho Chi Minh City.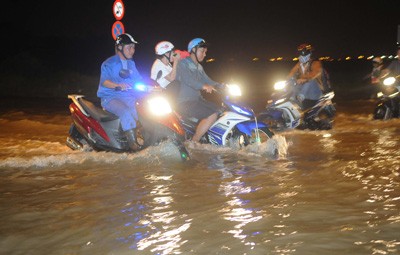 Luong Dinh Cua Street in District 2 is submerged (Photo: SGGP)
According to the Southern Hydro Meteorological Center, the tide level measured 1.62m at Phu An Station on Saigon River and 1.63m at Nha Be Station on Dong Dien Canal at 6 p.m. yesterday.
Low lying areas continued to lie under floodwaters. Several streets were submerged under 0.5-1m of tide in District 7, 9, 8, 6, Binh Tan, Binh Thanh, and Thu Duc.
Local residents used sand bags and planks trying to prevent floodwaters from flowing into their houses.
The tide water flow into local people's houses, swept away their furniture and threatened thousands of apricot yellow trees and ornamental plants in Hiep Binh Chanh and Hiep Binh Phuoc Wards in Thu Duc District, where several embankment sections are in danger of breach.