The High-quality Vietnamese Goods Fair 2011 kicked off in Ho Chi Minh City yesterday with over 300 companies participating in the event.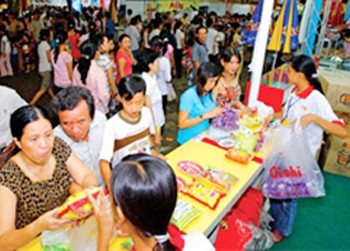 Customers buying goods at the High Quality Vietnamese goods Fair 2011 opened in HCMC on April 27
All the 300 companies will display and sell their commodities in 1,000 stalls set up in the Phu Tho Indoor Sports Center in District 10.
During the six-day fair, there will be a competition on "Creative marketing during inflation" for the participants.
Co-organized by Sai Gon Tiep Thi Newspaper and the association of high quality Vietnamese goods businesses, the fair will last until May 2.