After five years since its birth, the Ho Chi Minh City (HCMC) High-Tech Zone has granted licenses to 27 domestic and foreign investors with a total investment of US$1,403 million and it expects to attract more investment projects in the upcoming period.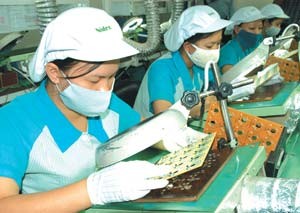 Workers in the Nidec factory in the HCMC High-Tech Zone
Found in 2002, the 573.4-hectare zone attracted an impressive US$1,045 million in investment capital in 2006, or 44 percent of the total investment capital of HCMC.

Moreover, about 24 percent of all new investments in HCMC in the first three months of 2007 (US$100 million) also went into the High-tech Zone.

Most domestic investors like the Corporation for Financing and Promoting Technology (FPT) and VTC Telecommunications Joint Stock Company are keen on information technology.

Meanwhile, foreign investors, including many big names like Intel Corporation (USA), Jabil Group (USA), Sonion Corporation (Denmark), and Nidec Corporation (Japan), have their eyes on information technology, telecommunication, electronic appliances, and biotechnology.

The news of Intel's decision to pour more investment capital into the High-Tech Zone last year has lured additional investors in search of investment opportunities in the zone.

According to the management board of the HCMC High-tech Zone, there are currently 47 investors waiting to begin their investment projects in HCMC within the High-tech Zone. These potential investments are estimated to be worth about US $813 million.

To improve overall investment potential, drastic measures in the zone have been undertaken since last year to upgrade management, personnel training, sci-tech capabilities, infrastructure, and the rate of construction and site clearance.

After a five-year term of development, the HCMC High-Tech Zone now has the essential infrastructure and management resources to serve companies moving into the High-tech Zone.

The zone's management board is doing its best to live up to the city's expectations for the Zone as one of the five major projects in the city's five-year socioeconomic development plan (2006-2010).