Le Minh Tri, Vice Chairman of the People's Committee of Ho Chi Minh City, along with local authorities surveyed the area along the Saigon River in Cu Chi District on March 6 to evaluate and develop a plan to convert the area for productive commercial purposes.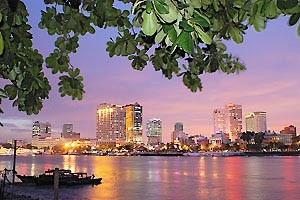 Saigon River
The area being targeted is around 4,800 hectares, and comes under Phu My Hung, An Phu, An Nhon Tay, Thuan Duc, Phu Hoa Dong, Trung An, Hoa Phu, and Binh My Communes of Cu Chi District.
Since early this year, the area was being considered for developing into farming villages, eco- tourist areas and orchards, keeping in mind a harmonious growth plan; protection of the environment, especially water bodies (i.e. no polluted wastewater); and give priority to preserving green cover around the city.
Vice Chairman Tri asked that necessary surveys be also conducted to other parts of the River such as Hoc Mon, Binh Thanh Districts and District 12, in order to make the entire river bank an ideal ecological area.
The HCMC Department of Planning and Architecture has been requested to collaborate with the southern province of Binh Duong on the opposite side of the river, to formulate a harmonious and environmentally friendly development plan in the near future.
The Vice Chairman also warned related agencies against approving any construction projects of villas or luxury residential buildings, saying that they should pay more attention to hi-tech farming villages and to implementing either the city's planning process or foundation planning and let private investors do the rest.