The Mekong Delta city of Can Tho hosts a conference on the socio-economic cooperation with Ho Chi Minh City for the 2006-2010 period on April 12. Memorandums of major projects worth over VND6 trillion are signed.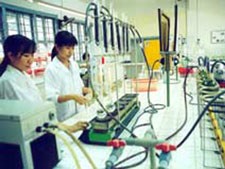 Industrial sector of Can Tho city will receive more investments of Ho Chi Minh City's enterprises.
Ten projects with a total investment of over VND6 trillion, are discussed and agreed by nine enterprises from Ho Chi Minh City and their partners in Can Tho. Most projects focus primarily on aquatic products processing, poultry slaughtering, commercial activities and resettlement construction.
Particularly, two important projects receiving great attention are a VND 1 trillion tourism project in Khuong islet and a VND3.2 trillion oil refinery construction, invested by the Vien Dong (Far East) Investment Joint Stock Company, with an estimated annual capacity of 2 million tons.
In the next five years, the two sides will focus more on eleven sectors including industry-agriculture, commerce-services-tourism, science-technology; transport-public works; urban management, human resources training, and the development of capital market.
In the 2001-2005 period, over VND2.3 trillion was invested in the Mekong Delta city by Ho Chi Minh City's enterprises, of which the industrial field accounted for the largest proportion (49.12%), followed by the infrastructure investment – real estates (47.5%).
Currently, 288 economic units of Ho Chi Minh City have registered to open their businesses in Can Tho city.