Ho Chi Minh City Departments of Finance, and Industry and Trade on April 1 announced the city's price stabilization program by imposing the prices of nine essential commodities and relevant issues.
So far, there are 22 (14 committed in 2010, and 8 in 2011) companies have registered for participation in the program and they will get free-interest loans without mortgage for 12 months.
The program will be carried out from now to the end of lunar New Year period (March 31 , 2012) and producers of essential goods for the program will get interest-free loans worth VND412 billion (US$19.7 million). 3 companies ( Phuoc An co-operatives, Nha Trang 584 sea and maritime food Co Ltd and Phu An sinh Co Ltd do not receive the loan but are still committed to join the program.
In comparison against the program last year, the program this year witnesses an increase in terms of numbers of commodities and the retail spots of 2,314. The prices of the program's nine items – rice, sugar, cooking oil, meat, poultry, egg, processed food, vegetables, and seafood – are 10 percent lower than the market prices, Ms Dao Thi Huong Lan, the Director of city's Finance Department said.
The quantity of commodities in the program will occupy about 20-25 percent of the market, namely sticky rice 5,500 tons, RE sugar 2,300 tons, cooking oil 800 tons, meat 3,600 tons, poultry 1,600 tons, processed food over 1,000 tons, vegetables 1,400 tons, and seafood 65 tons…
Accordingly, cooking oil is priced at VND36,000 ($1.7) per liter, while sugar is sold for VND22,000 per kg and chicken eggs are provided at VND23,500 per 10 eggs.
Other commodities are priced at VND80,000-83,000 per kg for pork, VND8,600 per kg for tomato, VND16,200 for cucumber, VND21,400 per kg for potato, and VND11,300 per kg for bitter melon.
If these prices are approved by city People's Committee today, they will be applied the same day, said the Finance Department.
However, the prices will be subject to change based on market developments to prevent hoarding and speculation in case a big gap develops between the program prices and market prices.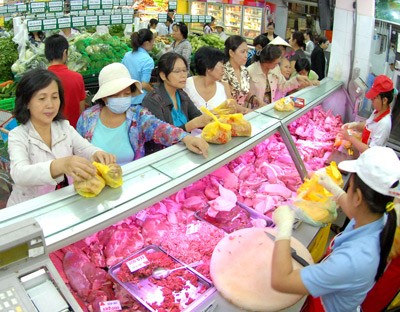 Buying poultry meat at prices of price stabilization program in a supermarket
The volume of food under this year's program is increased by about 15 percent compared with last year and is expected to account for 20-25 percent of the total market demand, said Le Ngoc Dao, deputy director of the Department of Industry and Trade.
They are required to maintain at least 12 outlets operating stably in the beginning of the program and have to increase the number of outlets by 20 percent later, said Nguyen Thi Hong, deputy chairperson of the city People's Committee.
Currently, those providers have registered 4,314 outlets, including 800 at traditional markets, Ms Hong said.
Providers must not raise their selling prices at any time unless their input costs increase by 15 percent compared to that in the beginning of the program, and any increase in selling prices must be approved in writing by the Finance Department, the official said.
In case any providers violated the program's regulations, they will be not eligible to join such a program in the next two years, she added.