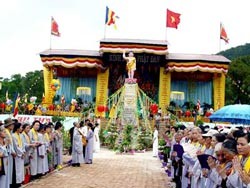 A pagoda celebrates Buddha's 2550th birthday
Ho Chi Minh City formally started many activities to mark the 2550th birthday of Buddha on May 6, 2006.
All pagodas in the city are celebrating the event until May 12, the 15th day of the lunar fourth month. The activities include music performance, festive and charitable activities, giving away presents to the underprivileged and awarding scholarships to poor pupils.
Buddhist monks in the city will lay wreaths at war memorials and organize many requiems to pray for the dead.
UNESCO has recognized Buddha's Birthday as the World's Religious Festival Day.