A joyful Christmas atmosphere has pervaded Ho Chi Minh City, with streets and markets festooned with colorful lanterns, streamers, decorations and residential areas, particularly Christian churches buzzing with streams of people taking in the Christmas spirit.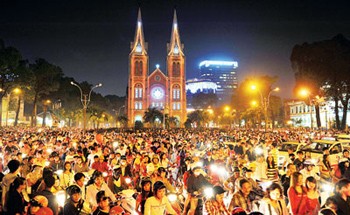 HCMC residents welcome Christmas at the Notre Dame Cathedral (Photo: SGGP)
Many young people dressed as Santa Claus gathered at the Vuon Xoai Church in District 3 to offer dainty little gifts to children coming from poor residential areas.
Nguyen Huy and Ha Thi Hong said that they had prepared a list of poor students, disabled and lonely elderly people in various parts of the district so that they could surprise them with gifts on Christmas.
Another group of young people went visiting rental homes of workers in Trinh Quang Nghi Street in Phong Phu Commune of Binh Chanh District from 6pm Saturday, carrying gift packages on their bicycles to deliver to children in each home. 
 
Priest Dinh Ngoc Le at the Hanoi Church in Ward 16 of Go Vap District said that over the last few days, many activities have been hosted at the Xom Moi Parish for the poor to be able to enjoy a warm and happy Christmas.
Christian communities and residents offered gifts and free meals at food fairs, creating a warm and happy Noel atmosphere, he said.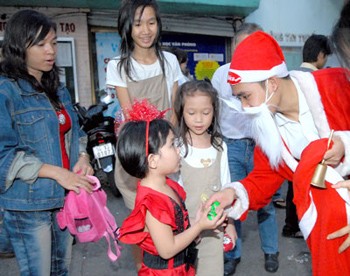 HCMC residents welcome Christmas at the Notre Dame Cathedral (Photo: SGGP)
Colorful Christmas Eve
The over three kilometer stretch of the Pham The Hien Street in District 8 which runs along Binh An and Binh Thai Parishes was decorated with colorful lights. Hundreds of little grottos, fir trees covered with white snow flakes and statues of Jesus, Virgin Mary and Santa Claus were set up by local residents in front of their homes, pavements and on crossroads.
Several stretches of roads from Binh Thuan Church, Binh An Primary School and Ba Tang Bridge were flooded by high tide. However, it still failed to prevent holiday makers and vehicles from flocking onto the street. Local people had to set up dividers with ropes to control traffic jams.
Many dressed up Santas delivered presents and red hats to passersby's in front of fast food and bakery shops along some streets in districts 5 and 8.
Closer to midnight, roads leading to the city center were packed with people inching towards shopping centers and entertainment areas. Traffic snarl-ups occurred along Tran Hung Dao, Vo Van Kiet, Nguyen Thi Minh Khai, Nam Ky Khoi Nghia, Le Duan, Ton Duc Thang and Le Loi Streets.
The District 2 side of the East West Highway was also crowded with people driving in to enjoy the Christmas atmosphere.
Cold not dampening Christmas spirits in Hanoi

Recent days have seen several activities in Hanoi, geared to ring in the Christmas spirit. On Saturday local leaders visited and gave gifts to Christian dignitaries and followers.

The bitter cold did not deter people's spirits on Christmas Eve in Hanoi. The Christmas weekend has only brought out more people out on the streets to celebrate the festival in joyful spirit.

Amongst the streams of people out to enjoy themselves, were also many young people dressed as Santa Claus, riding motorcycles and delivering gifts to little children.

Several routes in the city downtown area faced traffic congestion, but police officials worked hard to ensure safety and security in the capital city.