Ho Chi Minh City has a thriving cultivable area of more than 1,170 hectares, where it grows a variety of flowers and ornamental plants that are sold each year during Tet Lunar New Year.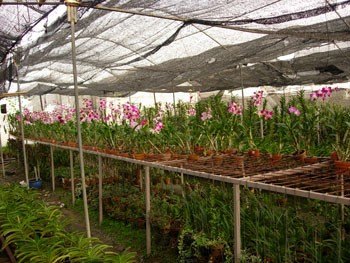 An orchid garden in District 12, Ho Chi Minh City.  (Photo: KK)
The orchid area is spread over 190 hectares with many kinds of Dendrobium and Mokara being cultivated in Cu Chi, Binh Chanh, Hoc Mon Districts as well as in District 12.
Ornamental and bonsai plants are being cultivated on 352 hectares in Go Vap, Cu Chi, Binh Chanh and Hoc Mon Districts and also in District 12.
Yellow apricot is growing on 480 hectares in Thu Duc, Binh Chanh, Cu Chi Districts and in Districts 9 and 12.
Other varieties of flowers are growing across the city on about 150 hectares of land.
The markets in Ho Chi Minh City are expecting to see about 470,000 bonsai and ancient ornamental trees; 2.5 million orchid pots; 3 million Dendrobium and Mokara orchid pots; 1.5 million yellow apricot trees and 6.4 million other flowerpots.
Flower prices will increase from 15 to 20 percent, during Tet.
Although the City is flooded with a huge volume of flowers and ornamental plants from regions across the country, local flower growers in the city have a competitive edge as they have access to more hi-tech technology methods for cultivation.