A delegation of Ho Chi Minh City high ranking officials led by Politburo member, Secretary of the City Party Committee, Le Thanh Hai has paid a visit to the Republic of Korea (RoK) from May 23-30.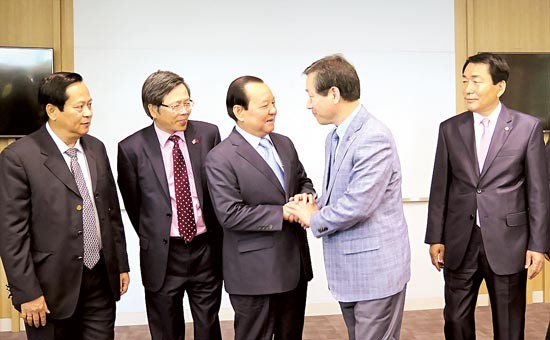 Secretary of Ho Chi Minh City Party Committee, Le Thanh Hai (3rd,L) and Incheon Mayor Yoo Jeong-bok and former Incheon Mayor Ahn Sang-soo (3rd and 2nd, R) in the meeting (Photo:Sggp)

Vice chairmen of the Ho Chi Minh City People's Committee, Nguyen Huu Tin and Hua Ngoc Thuan, together with leaders of departments and over 40 businesses were also among those attending the visit.

Incheon Mayor Yoo Jeong-bok, former Incheon Mayor Ahn Sang-soo-, National Assembly Member, and Incheon Metropolitan City Council chairman No Kyung-soo received the delegation at the G Tower in Incheon-Seoul, South Korea on May 24.

Mr. Hai affirmed that Ho Chi Minh City always wishes to further promote strategic cooperative relations with the RoK, and create favorable conditions for the Korean investors, especially in the fields of support industry, electricity, electronics, hi-tech agriculture, textile and garment.

He also highly appreciated the Free Trade Agreement (FTA) signed between the two countries and mutual benefits. The establishment of FTA will confer substainable economic benefits upon both Vietnam and the RoK.

Over the last 20 years since Vietnam and the RoK established official diplomatic relations (1992), the relations between the two countries have grown stronger and deeper, especially since President Park Geun-hye's state visit to Vietnam in 2013, said Incheon Mayor Yoo Jeong-bok .

The mayor hoped that the visit will strengthen a wider range of relationship cooperation between Incheon and Ho Chi Minh City.
On the same day, the delegation visited the Embassy of Vietnam to Seoul and met overseas Vietnamese and students in here as well as attended an art program at Soongsil University.
The RoK is one of Ho Chi Minh City's leading partners in the fiels of trade, investment and tourism.
The Korean community in Ho Chi Minh City of about 80,000 and 1,800 enterprises have had outstanding contributions in the City's development. The Korean community in Vietnam comprises up to 130,000 people.

Meanwhile more than 123,000 Vietnamese people, including 5,000 overseas students are studying and working in the RoK.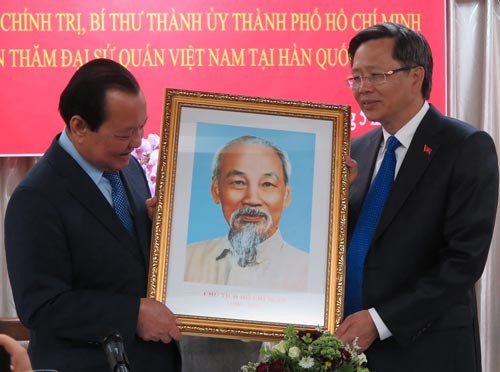 Mr. Le Thanh Hai hands over a painting of Uncle Ho to Vietnam's Ambassador to Korea, Pham Huu Chi (Photo: Sggp)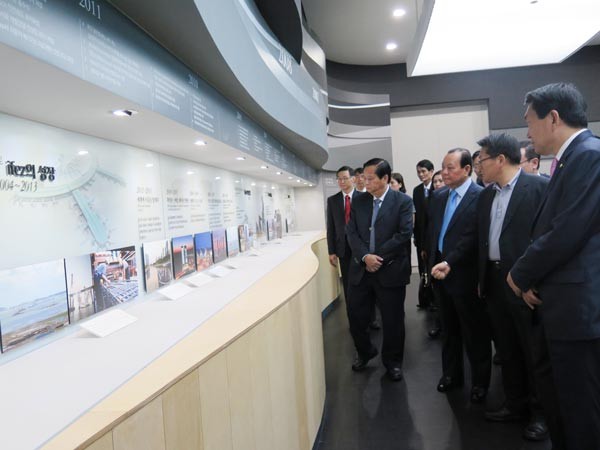 Secretary of Ho Chi Minh City Party Committee, Le Thanh Hai (3rd, R) sees the design of the New Songdo City in South Korea (Photo: Sggp)