The center of Ho Chi Minh City has been colorfully decorated with several of the main streets, trade centers, shops and office buildings all brightly lit up to welcome Christmas and the New Year.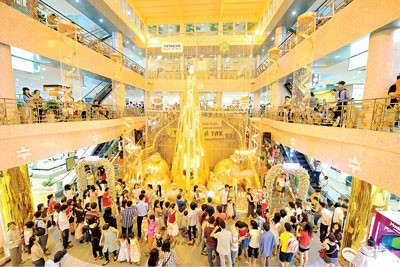 A festive Christmas and New Year atmosphere at a trade center in HCMC (Photo: SGGP)
Strings of colorful lighting have been hung across trees along streets and shops with eye-catching decorations. In particular Le Loi, Dong Khoi, Nguyen Hue, Ham Nghi, Dong Du, Le Thanh Ton and Ly Tu Trong Streets in District 1 are all wearing a festive look.
Le Tien Thanh, a 27-year-old restaurant worker on Bui Vien Street, said that like other shops on the street, his restaurant is also decorated to welcome Christmas and New Year. This year they used pine trees, lights and other decorative paraphernalia that had been used last year so as to save costs.
The HCMC Student Cultural House has also been hosting many interesting activities to ring in the New Year.
Cao Minh Tri, from the HCMC Student Cultural House, said that from now until Solar New Year, they will organize a lot of activities for students in the City. Among these will be musical galas which will be held at the University of Economics and Technology, and dormitories of the University of Banking, National University, and University of Transport on December 31.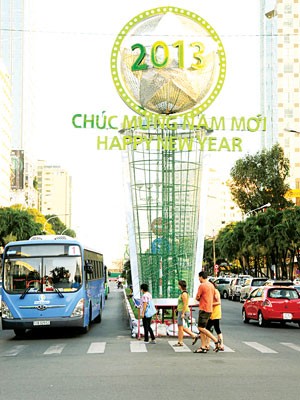 Nguyen Hue Street in District 1 is decorated ahead of Tet (Photo: SGGP)
An eight day festival will take place at the Youth Cultural House to welcome the New Year from December 24-31 with several activities for youth.
 
The HCMC Student Support Center has called on businesses to raise funds to give students for bus tickets so that they can return to their hometowns to celebrate Tet. The fund can also be used for students away from home to celebrate Lunar New Year in the City.
Huynh Kim Thanh, head of the Mobile Police Force in HCMC, said that they have launched a campaign to strengthen patrolling in the City to ensure safety during Christmas and New Year. The campaign will continue till Tet Lunar New Year 2013.