The Ho Chi Minh City People's Committee met earlier today to review the city's economic progress in the past ten and a half months.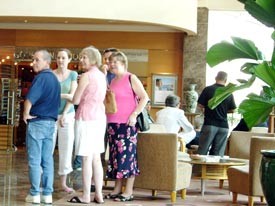 Some 2.35 million foreigners visit Ho Chi Minh City this year, contributing to the rise of the city's GDP (Photo: T.C.)
First up was GDP, which has climbed by 12.2% to 12.5% year-on-year thanks to a marked rise in everything from tourism and other services to industrial output, agricultural production and export.
 
The list of "key products", as they are called, has expanded to 25 items made by 19 companies.
 
Despite progress on many fronts, there still remain "shortcomings in competition and international industrial integration", the meeting was told. For one thing, poorly performing labor-intensive industries still dominate the economic scene.
 
Although services are considered a strong point for the city and such areas as banking, consulting, freight forwarding and warehousing, post and telecommunications are growing better than most, they account for only a small proportion of GDP and have not been exploited to their full potential.
 
Many of the companies involved in planning, construction, realty trading, transportation and environment protection are doing a poor job and "have not satisfied the requirements of economic growth or the people's welfare," to quote someone at the meeting.
 
Furthermore, some districts are still without any facilities for treating industrial waste, and the tap water leaves much to be desired.
 
The city's unwieldy bureaucracy and its miles of red tape were also criticized.