Ho Chi Minh City has made many concerted efforts to protect its historical relic sites, but despite the Cultural Heritage Law, all actions on ground level have proved ineffective.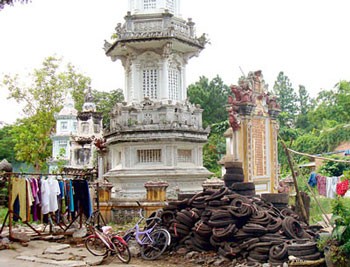 The beautiful Giac Vien Pagoda stands near a garbage dump.  (Photo: Sggp)
The Cultural Heritage Law requires that management staff of all the historical sites has to be better trained in organizing and managing festivals in local relic sites, with more cultural knowledge and ways to handle tourists, said Vu Kim Anh, deputy director of the municipal Department of Culture, Sports and Tourism.
She said that though local authorities were already involved in the restoration of historical sites such as Phung Son and Giac Vien Pagodas in District 11 and the Hanh Thong Tay Temple in Go Vap District, lack of funds to pay as compensation to the families who are squatting in these premises is holding the projects.
In addition, restoration methods suggested by foreign experts were inappropriate for Vietnam and the conditions prevalent here, she added.
There are undoubtedly many hurdles and obstacles in the restoration of historical sites. Investments, construction, management and future maintenance of cultural heritage monuments must all work in coordination, to be more effective. On the other hand, there were problems like land encroachment of surrounding areas of cultural relic sites that were always difficult to tackle, the director said.
The Department of Culture, Sports and Tourism has of late held many working sessions with the People's Committee on historical relics that have now come into private hands.
Several relic sites were private homes before 1975. After the war, the city government made arrangements with their owners by providing alternative accommodation and hence preserving these homes as cultural historical sites.


Related article:
City relics of historical importance in dismal conditions