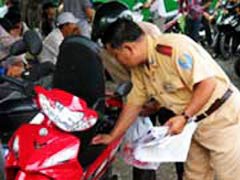 Traffic Police is checking a vehicle's frame serial number at a Motor Registry.
Computerized selection of registration number was recently installed at the Motor Registries under Ho Chi Minh City Public Security's Traffic Police Department on May 3.
The rego number granting process will be accelerated thanks to the new computerized system.
After receiving the vehicle owners' filled registration forms, managerial staffs in these units will enter the vehicle's data such as the frame, engine serial numbers and other properties into the system. Finally, the applicants will just have to hit the Enter key, issuing a command to obtain a registration number for their motorbike or car.
According to Commander Tran Van Thuong, Head of the Vehicle Registration Team No.3, the computerization of number granting helps appropriate authorities save more time by fast, simple and automated operations.
Besides, the database installed in these computers will help manage and store the data of registered vehicles as well as their registration date. Thus, irregularities and mistakes will be minimized.
Right after the installation of new systems, the Motor Registry No.1 and No.3 will launch a pilot number granting for vehicles in District 1 and 5. Then, the service will be deployed in all districts of Ho Chi Minh City.
As planned, there will be around 100 computerized systems to be installed in three Registries, which are directly under the Ho Chi Minh City Public Security's Traffic Police Department.