The aging apartment blocks in Nguyen Thien Thuat and Ly Thai To streets do not project the kind of image the authorities of Ho Chi Minh City's District 3 have in mind for the overcrowded and run-down area that makes up Ward 1.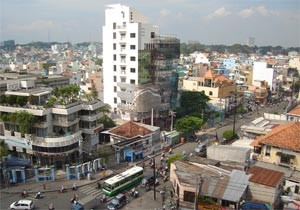 View of a part of Dien Bien Phu Street in District 3, Ho Chi Minh City (Photo: Hoang Uy)
The ward's location is very important to the Ho Chi Minh City government as it is ideal for commerce, which is why the district authorities are planning to convert the apartment block in Ly Thai To into offices and shops, and to rebuild the Nguyen Thien Thuat apartment block in its entirety.
Besides the decrepit buildings, the most glaring deficiency of the 15-hectare ward bounded by Nguyen Dinh Chieu, Dien Bien Phu, Ly Thai To and Nguyen Thien Thuat streets is the lack of green space.

To remedy the situation, a public garden will be created in the center of the ward.
Longer term, the District 3 authorities plan to turn Ward 1 into a major commercial center with a population of 14,500 people.