A direct dialogue on the topic "The City takes initiative in integration and development" between Ho Chi Minh City (HCMC)'s leaders and the youth will be held at the HCMC Youth Cultural House on March 18, 2006.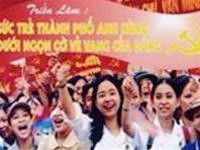 The youth of today are filled with the aspiration to succeed in life.
The leaders will answer questions on employment solution, training and job assignment for young people, talent attraction, as well as listen to the youth's aspiration and ideas to the building and protection of the City.
The youth's concerns and queries will be directly answered by Secretary of the HCMC Party Committee Nguyen Minh Triet, Chairman of the HCMC People's Committee Le Thanh Hai and Chairman of the HCMC People's Council Pham Phuong Thao.
The dialogue will be telecast live on Channel 9 of the HCMC Television from 8:00 am to 11:00 am. It will also be radiocast on the wave of 610 khz of the Voice of HCMC People.
People can join the dialogue directly through the hot line 08.8244.171 and 08.8244.339 or Tuoi Tre Online at www.tuoitre.com.vn.