A number of people in Ho Chi Minh City have run home-stay service to earn an extra income to cover their monthly bills while many backpackers have chosen this affordable service for interesting experiences of local culture.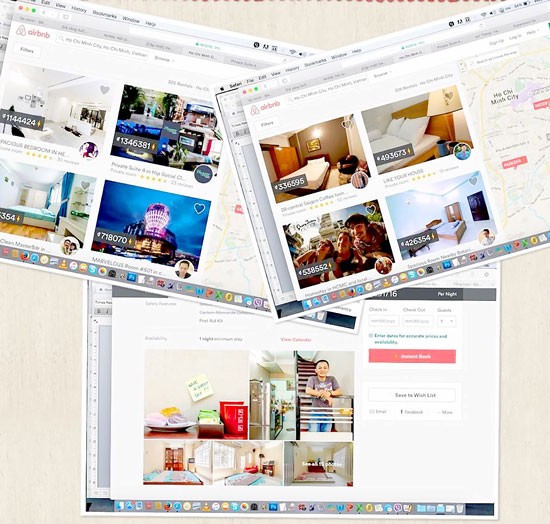 Many households in HCMC announce rooms for rent in Airbnb (Photo: SGGP)
"Backpackers like us usually access rental room websites of natives to find accommodations and it is easy for us to find a room in HCMC downtown for six days via website Airbnb," said Canadian teacher Anthony who has been in HCMC with his girlfriend.
That was a 16 square meter room in a quiet alley, District 1 which he paid only VND320,000 (US$15) a day with sufficient facilities comprising a bed, bathroom, air conditioner, water heater, cable television and wifi, he said.
 
Home-stay brought him opportunities to live in the same house with locals, who showed him good restaurants, shopping places and price and bargain and lent means of transport, he told.
 
"The host invited us to have meals with his family, so we could enjoy Vietnamese popular dishes. He even led us to small restaurants for breakfast and roadside coffee. It was an interesting experience and we would return to HCMC in a near future," he said.
 
Backpacker named Arnal from Dubai has recently experienced a four day home-stay in Binh Thanh district, HCMC.
 
In a statement posted on Airbnb page, he said that the clean room having full facilities was located near the downtown area and rented at only US$12 (VND300,000) a day.
 
The house master was very hospitable and willing to answer his questions about new things in the city, lent him a motorbike to explore the city himself, he said.
Such home-stays have brought him new friends and knowledge of many things about places he travel to.
 
Mr. Manh Dat, owner of the Canadian teacher's room, said that he had run the home-stay service for two years, which was a choice of most backpackers at the age of 18-35.
 
Many other people with spare rooms have also attended room for rent websites to earn an extra income.
 
Mr. Hoang Thong told in a recent visit to Las Vegas, he found a room from a native's house with prices much lower than hotel prices via Airbnb.
 
After that trip, he registered with Airbnb to lease a spare room in his house in Binh Thanh and has received 20 tenants from many nations since April this year.
 
Besides the rental room, tenants could use living room, kitchen and washing machine if they want. The service helped Mr. Thong cover monthly electricity, water and internet bills, he said.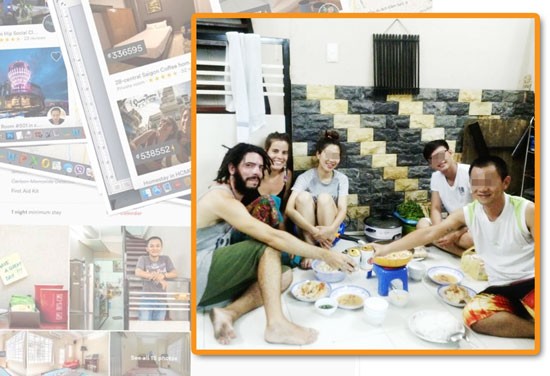 (Photo: SGGP)
Housewife Hoai Nuong from District 3 said that she had two vacant rooms as her sons had studied abroad, so she provided the home-stay service for additional earnings and pleasure.
 
The two rooms measured at about 12-15 square meters each have been leased at VND320,000-350,000 a day.
 
Ms. Nuong has received 3-4 tenants staying an average of 3-5 days for the last one year, bringing her tens of millions of dong.
 
Single freelance architect Minh Tuan said he traveled 2-3 times a year, each trip lasted 1-2 weeks, when let out his 46 square meter apartment in District 7 to backpackers at the price of VND2 million (US$91) a week. He used this source to pay for accommodations where he treaded.
 
Insufficient statistics show that Vietnam has 1,000 rooms for rent registered in Airbnb. Of these, 58 percent are from HCMC, 39 percent from Hanoi and the rest number comes from Hoi An, Phu Quoc and Ha Long.
 
The rent in Airbnb is 30-40 percent lower that at hotels for the same time and location, according to surveys by backpackers posted in forums.