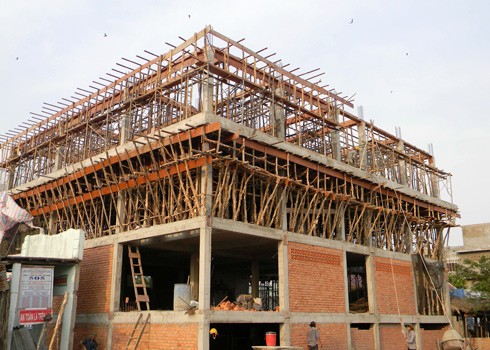 A building for raising the bird in Can Gio District
The People's Committee of Can Gio District in Ho Chi Minh City on December 28 reviewed a three-year pilot scheme for raising swiftlet birds in domestic households.
At present, there are 10 households in the planned zone raising swiftlet birds in Tam Thon Hiep Commune. Six house owners have invested for a three year period, and two harvest bird's nests regularly and have a yearly profit of VND600 million-1.8 billion (US$29,000-$86,517).
Householder Nguyen Van Dung started raising the bird in 2009 with 4,000 birds and harvests a minimum of five kilograms every month. Spontaneous raising of the bird takes place in Ly Nhon, An Thoi Dong and Binh Khanh Communes in 187 houses, some of which harvest more than 10 kilograms of bird's nests in a month.
Nguyen Phuoc Trung, deputy chairman of the Department of Agriculture and Rural Development, said that taking only 10 households as examples, then one hectare of farmland will generate VND4.8 billion a year. This is higher profit than agriculture, which averages at VND230 million per hectare per year.
However, district leaders should maintain caution and not allow haphazard investments in raising the birds and focus on better management on a model for future sustainable development.