Eight hundred people found employment at the 18th Job Exchange Floor hosted by the Job Center in Binh Thanh District and the Unemployment Insurance Agency in Hoc Mon District in Ho Chi Minh City on November 12.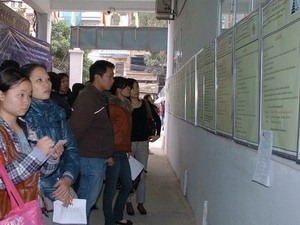 Young people look for employment at a job center in HCMC (File Photo: VNA)
As many as 72 businesses took part in the Jobs Fair with demand for almost 3,500 workers. Of these, 19 businesses made direct recruitments while 53 recruited workers online via websites www.vieclamvietnam.gov.vn and www.vieclamhcm.net.
The businesses were in related fields like sales, garments, textiles, human resource management, financial consultancy, pharmacy, mechanism and unskilled labor.
By 6pm on November 12, the 18th Job Exchange Floor had attracted 3,630 job seekers out of which 800 found employment.
Besides job seekers, nearly 4,000 people under the unemployment insurance policy also came to find jobs.