Several villas, houses and apartment blocks in Ho Chi Minh City are currently lying vacant or abandoned, with no takers, seemingly a waste of tens of billions of dong.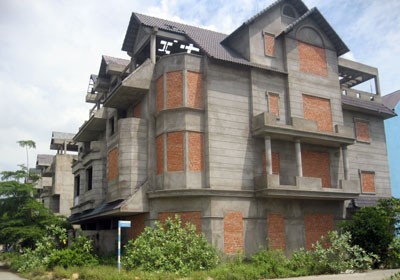 Low-income urban areas provide accommodation for thousands of workers
In Khang An residential area in Phu Huu Ward of District 9, only ten of the 350 houses planned in the building project that started in 2007, are currently occupied. Of the 350 houses on the blueprint, only 100 have begun construction but now most are lying abandoned.
A house owner said that he had bought his house in 2008, and according to the project plan there were supposed to have been crèches, nursery schools and parks here.
Thanh My Loi residential area in District 2 is also coping with 112 villas deserted by owners. Construction of these villas started in 2005 but now many are lying abandoned with overgrown weeds covering them.
Resettlement apartments in Tan Hung tenement in District 7 are also lying vacant even though it is located only three kilometers from Ben Thanh Market.
This apartment block of five storeys has been in the making since 2006, but so far only 23 households have resettled here, the remaining 50 apartments are lying vacant and quickly downgrading by the day. Weeds are overgrowing the building and surrounding area.
Another tenement that has been abandoned for more than three years is at 481 Ben Ba Dinh in District 8. This is a two block 15 storey building with 350 apartments.
According to residents living in the neighbourhood, the tenement has become a den for drug addicts.
Bac Rach Chiec resettlement tenement in District 9 is also badly downgraded after it was inaugurated five years ago, with only few households occupying it.