More than 700 residents and volunteers participated in the annual 'Green Consumption Campaign', which kicked off in District 10 in Ho Chi Minh City on Sunday.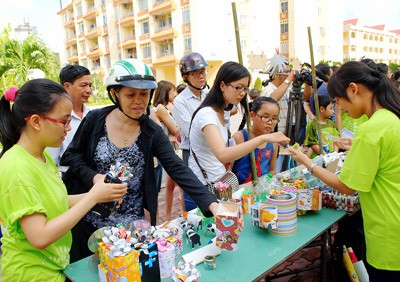 Hundreds participated in the 'Green Consumption Campaign 2012' in HCMC on May 20 (Photo: SGGP)
Green Consumption Campaign 2012 will be marked with various activities throughout the campaign to call on people to consume products that are environment friendly and help in the sustainable growth of society.
Besides promoting environment friendly products, this year the campaign will organise lots of activities to raise awareness amongst citizens on how to protect the environment in a much more sustainable way.
Pham Duc Hien, deputy editor-in-chief of Sai Gon Giai Phong Newspaper and also the deputy head of the steering committee of the 'Green Consumption Campaign', stated that more than 1,000 people had registered to participate in the campaign after one month since an appeal was launched for participation in the campaign's movement.
In the next few days, the campaign will organise events like shopping with famous people and raising awareness of the benefits of consuming environment friendly products.