Hundreds of people spent a sleepless night at Saigon Railway Station in District 3 in Ho Chi Minh City, in the hope of buying advance train tickets for the Tet Lunar New Year holidays, only to return disappointed and empty handed.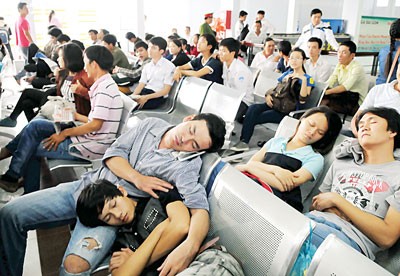 Passengers lie in wait to buy Tet train tickets at Saigon Railway Station on December 19 (Photo: SGGP)
At 9pm on December 19, several people were seen sitting listlessly or lying along any available space outside the Saigon Railway Station. By 2.30am on December 20, the station opened its doors to allow hundreds of waiting passengers to enter the ticket area to purchase advance tickets. 
Nguyen Thi Bich Thao from Binh Chanh District said that after trying but failing to buy tickets online, she and some friends came to the station at 11pm on December 19 to buy Tet tickets to Da Nang City.
A couple of minutes after the station opened its doors, all seats in the main hall of the station were filled with people. The station's guards had to provide extra plastic chairs for passengers.
As morning approached, more passengers showed up. The station then began to deliver order numbers to passengers at 4.50am and sold tickets from 7am.
Besides getting order numbers directly, passengers could also receive them through messages; however, all 1,000 orders numbers ran out by 6am.
Several people had waited the entire night but were still unable to get an order number. The situation became chaotic and security had to work hard to maintain order.
Meantime hundreds more continued to flock into the station, but most of them had to return empty handed because there were no order numbers left.
Thousands of these people had come from suburban districts of HCMC and from neighboring provinces like Binh Duong, Dong Nai, Tay Ninh and Ba Ria-Vung Tau.
At 8am the number of people streaming into the station increased much more, forcing guards to stop them from entering and only allowing those with order numbers to enter the ticket counter area.
Vo Minh Quang from Quang Ngai Province said that he arrived at the station at 5am but could not get an order number. He therefore had to ask those with numbers to help him buy tickets.
People still kept coming even while the station informed that tickets to central provinces had run out. Only tickets to stations in the north for February 1, 2 and 8 were still available.
In the morning, the station just sold tickets to those with order numbers from 1 to 400. Those with higher numbers had to wait until the afternoon.