HCM City's traffic accident death toll has fallen yet injuries are on the rise compared to last year, the city's Traffic Safety Committee said at a meeting to review the first six months on July 16.
Presiding at the meeting, the chairman of the city People's Committee, Le Hoang Quan, directed relevant agencies to reduce traffic accidents and congestion, which have badly effected socio-economic development.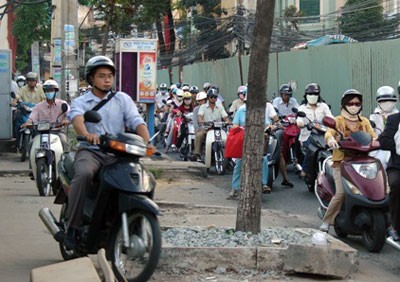 Rough street surfaces and digging work add to traffic accidents
He calculated about three city residents die in traffic accidents per day.
Figures of death tolls and injuries presented at the meeting included 452 people killed and 262 injured in over 574 traffic accidents in the city in the first half of the year.
Critically, four accidents killed 12 people and injured one. This marks an increase in the number of accidents and injuries compared to last year.
Seven districts 1, 8, 11, Tan Phu, Go Vap, Binh Tan and Hoc Mon have most accidents, with 70 percent caused by motorbikes, and the age of victims ranging from 19 to 24.
Traffic jams have not improved much either, for example a traffic jam at Cat Lat crossroads, District 2, lasted nine hours.
Traffic police admitted lack of personnel and small fines fail to prevent people from breaching the law.
The surfaces of roads have also be blamed, as many are not leveled correctly after roadworks.