A 16-member Indian delegation led by the Bengal National Chamber of Commerce and Industry Chairwoman, Shanta Ghosh, arrived in Ho Chi Minh City on Wednesday to discuss business opportunities.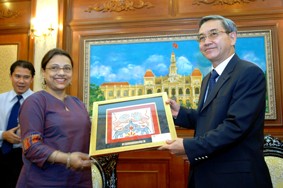 Vice Chairman of the HCMC People's Committee Nguyen Trung Tin hands a gift to Bengal National Chamber of Commerce and Industry chairwoman Shanta Ghosh (Photo: Saigon Times) 

The delegation wants to encourage members of the Vietnamese government and Vietnamese business to attend an International Trade Fair due to be held in Kolkata in January 2008.

This visit follows the Ha Noi leg of the delegation's trip to Viet Nam, and comes in the wake of Vietnamese PM Nguyen Tan Dung's trip to India. From these meetings, both countries hope to enhance business relations between the two countries.

The Indian trade mission met with Mr. Nguyen Trung Tin, Vice Chairman of the HCMC People's Committee.

The delegation also visited the Viet Nam-Singapore Industrial Park in Binh Duong province, and attended a brief meeting at the Consulate General of India.

The Viet Nam Chamber of Commerce and Industry will provide a business forum between the visiting Chamber and more than 80 Vietnamese firms.

Viet Nam - India trade turnover was worth more than US$1 billion in 2006 and during the first quarter of 2007 India was the third largest investor in Viet Nam.

Indian firms expect to find local business partners in such areas as engineering consultancy, ash handling plants, electrical equipment, high voltage currents, and voltage-transformers etc.

The potential sectors for cooperation include shipbuilding, rubber and plastic, food processing, textile and garments, gearboxes, cotton fabric and technical services for diesel power plants.