The skill-sets required of laborers in the Ho Chi Minh City area have been changing in recent years as sectors using highly trained work forces gradually replace processing industries using low-skilled laborers.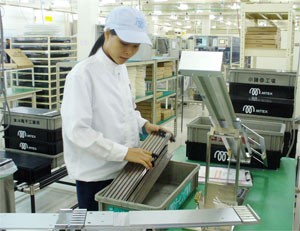 A worker processes electronic components and computer chips at the Japanese MTEX factory (Photo: T.Kh.)
Increasingly, labor markets in the industrial centers of Southern Viet Nam require highly skilled employees for electronic and hi-tech production facilities.
 
Earlier this month, construction began on two large factories worth US$50 million for Japan's Nidec Corporation. The plants will manufacture computer fan motors, desktops, step motors and optical pickup devices.
 
Nidec President Shigenobu Nagamori said the two factories represent just one phase of its plans to build ten factories in the Saigon Hi-tech Park (SHTP) by 2010. The factories, which will be worth a total of US$1 billion, will cover about 33 hectares and employ 33,000 workers.
 
Mr. Nagamori noted that apart from Nidec, six other technology conglomerates are planning to invest in Viet Nam, therefore, the technological sector is attracting lots of laborers.
 
According to the Labor, Invalids and Social Affairs Department in HCMC, demand for labor forces from industries utilizing unskilled laborers such as the textile, garment and footwear sector, will shrink from 32 percent to 17 percent by 2010.
 
Meanwhile, demand for highly-skilled labor forces, such as mechanics will increase from 6 percent last year to 9 percent by 2010, while demand from the electricity-electronics sector will from 5 to 7 percent, information technology from 7 to 9 percent, and trading-services from 6 to 10 percent.
 
The city plans to develop industries which use skilled workers, gradually phasing out industries which utilize an unskilled work force.
 
A report from the HCMC Department of Industry said that in order to implement the plan, the clothing industry, which employs many unskilled workers, will need to focus on design and the development of brand names to make value-added products.
 
Le Van Thanh, deputy director of the Urban Research Department of the HCMC Institute for Economic Research, said when a country is developing, its labor structure will change.
 
The experiences of other regional countries show that as a country develops  they tend to concentrate more and more on developing sectors employing higher brain power, gradually relocating businesses using low-skilled laborers to rural areas or underdeveloped countries.
 
"Viet Nam still needs to supply industrial parks and export processing zones with unskilled labor in order to solve unemployment problems, however we need  to think about a change of labor structure in the future. Ultimately, HCMC will focus more and more on development of the trading-service sector," Mr.Thanh said.
 
Between now and 2010, city authorities plan to develop five key industries including mechanics, electricity, electronics, information technology and chemical manufacturing.