Efforts to raise fund for infrastructure construction from individuals and enterprises have seen Ho Chi Minh City's authorities foster build-transfer (BT) projects.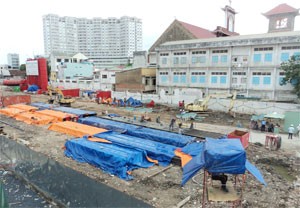 View of works on a BT project in HCMC. Investors in HCMC contract to conduct BT projects and in exchange, the city will offer lands to them (Photo: Minh Tri)
Statistics indicate that BT projects are hindered by a slow site clearance, which comes from residents' disagreement about the compensation.
The HCMC Steering Center of Urban Flood Control Program is the projector of a BT project on a sewage treatment plant in District 12 with the total investment of over VND1.3 trillion (US$62 million).
It is one of the city's key projects on wastewater flowing into the Sai Gon River from industrial parks in District 12, Go Vap, Tan Binh, Tan Phu and Binh Tan.
Although the HCMC People's Committee has approved to designate an area of 14 hectares for the project in 2009, the construction work has not kicked off due to site clearance issue.
Analysts say the city's authorities also struggle to find lands available for BT contractors as the land bank is limited.
The city's authority has put onus on builder Petroland to construct the belt road project in the south. The HCMC-based construction firm will achieve lands in exchange.
Yet the city's Department of Transport says it has not found available lands for Petroland.
The HCMC Department of Town Planning and Architecture is planning to designate two land lots with an area of 150 hectares and 129 hectares in outlying districts of Nha Be and Binh Chanh for the construction enterprise.
"Many investors in HCMC have not carried out their construction project due to a land shortage although they have received investment permits for years," the Ministry of Planning and Investment says in a report.
"A slow site clearance definitely results in bad impacts on the BT and BOT (build, own and transfer) projects."
Experts say investors in HCMC contract to conduct BT projects and in exchange, the city will offer lands to them.
However, no project has kicked off so far this year since the city's authorities grappled with site clearance.
Although an investment portfolio was set up in 2008, the progress of granting permits was at a snail pace.
Statistics show there are 69 infrastructure projects worth over VND180.4 trillion ($8.6 billion) in HCMC, of which 26 were granted permits. Among them are 13 BT and nine BOT projects.