Phan Minh Tam, director of the Ho Chi Minh City Department of Science and Technology believes technological innovation is one of the solutions to improve competitiveness within enterprises.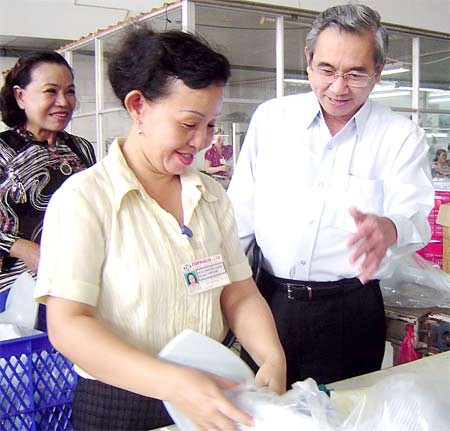 Nguyen Trung Tin, vice chairman of the Ho Chi Minh City People's Committee, visits a factory in the city (Photo: SGGP)
He stated this at a recent conference held by the HCMC Export Processing and Industrial Zone Authority (Hepza) to discuss ways to attract more investment into the hi-tech industry.
 
Mr. Tam said only technological innovations can help cut production costs, save energy and lower the cost price of products.
 
Enterprises must focus on high value-added products and building a brand image.
 
He said the city currently has a fund for improving technology and scientific techniques, which provides loans to enterprises at very low or zero interest rates.
 
Enterprises that want to improve technology and develop hi-tech products can apply for the loan, he added.
 
Nguyen Dinh Hung, deputy director of the HCMC Department of Architectural Planning, said the city's land fund is limited; therefore the development of low value-added sectors should be constrained.
 
The city should foster the development of hi-tech industry and services, while hinder the development of labor-intensive and environment polluting industries, he added.
 
He said the city faced many challenges in infrastructure, so labor-intensive and polluting industries using outdated technology should be moved to the city suburbs.
 
Quach To Dung, deputy head of the HCMC Department of Industry and Trade, said the city was focused in investing in some key industries namely, mechanical manufacturing, electronics, telecom, IT computing, pharmaceuticals and food processing.
 
She added that competitiveness in these industries has improved, with many of their products holding a large share of the local market. For instance, electric cables hold 80 percent share, electric fans 70 percent, tires 90 percent, electric appliances 50 percent and processed food 70 percent.