Ho Chi Minh City has failed to develop its social housing program because of complicated administrative procedures and capital shortage, said chairmen board of a real estate market development project in 2016-2020 at a meeting hosted by the city Department of Construction on Thursday.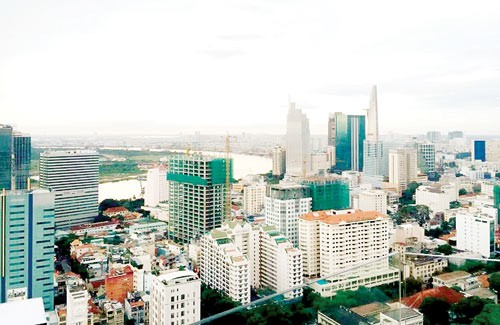 HCMC real estate market has seen a redundancy of high cost commercial housing supply and severe shortage of low price apartments for low income people (Photo: SGGP)
The city People's Committee has tasked the department of construction to implement the project with directions until 2025 and visions till 2030. The department has been collecting opinions to improve it before submitting to the committee for approval by the end of this year.

According to the project's chairmen board, social housing development has been modest in the city. Complex administrative procedures and capital shortage have hindered investors' attendance. Most projects have been invested with the city's limited budget.
The Housing Law regulates that businesses must use 20 percent of their land fund for social housing to projects of more than 10 hectares. However, few have abided by this regulation and faced no sanction.
Dr. Pham Thai Son, deputy chairman of the project, reported that the city has nearly 1,220 housing projects. Of these, 40 percent have been built, 8 percent halted, 33 percent are doing investment procedures and 19 percent under construction.
They have been developed inequitably in the city with most concentrating in new urban districts such as District 9 with 140 projects and District 2 with 120 projects and Binh Chanh suburban district. Districts 9 and 2 are located in the city's main development directions East and South.
Dr. Son said that there were many problems in social housing management and development and complicated admin procedures become one of the reasons.
Currently, investors take at least 464 working days to do procedures for a project of less than 20 hectares and 486 days for those of 20-100 hectares. It is up to 605 working days for projects being put out to tenders. In fact, procedures consume much more time than regulations.
That has defeated many projects and a number have been revoked because of sluggish progress.
Another issue is that housing projects have not been connected with the city's common development plan. It is necessary to build up public transport in development of a modern and civilized city. However, only 210 of the 1,220 housing projects have been approved 500 meters from metro stations, the number is too low which might affect metro system's effectiveness in the future, Mr. Son added.
Lack of transparency and stability were also mentioned by the chairmen board at the meeting.
In annual reports by John Lang LaSalle company, Vietnam is ranked 68th in real estate transparency, belonging to low index group.
This has resulted in speculation. A survey by a city-based company shows that 20 percent of house buyers were speculators for the phase of 2011-2014. The rate hit 50 percent during peak development time of the real estate market. Big difference between supply and demand has caused large inventory.
In addition, basing on data by the Department of Construction, it is expected that about 330,000 apartments will be opened for sale in the upcoming years, which will pose a big challenge to the city's housing development, Mr. Son stressed.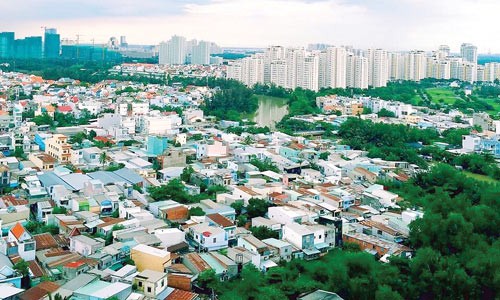 Most housing projects have concentrated in suburban districts (Photo: SGGP)
The HCMC Real Estate Association proposed administrative reform towards transparency and quickness as integration is forecast to boost other real estate segments including industry, office and tourism.
Administrative formalities have become a hindrance in the real estate market. Some projects have been done after three years or five years and some have been still half-done after even ten years, the association quoted.
Many projects have been long delayed because investors must wait for authorized agencies to calculate land use fee, the association's chairman Le Hoang Chau cited.
Mr. Le Thanh Tai, HCMC People's Committee's former permanent deputy chairman, said that the city would never be able to well perform in not only real estate sector but also environment, health and traffic sectors if development studies were not based on its specific conditions.