Investors in Ho Chi Minh City have not followed regulations in plans approved by authorized organs and have encroached public spaces to illegally construct residential and commercial buildings.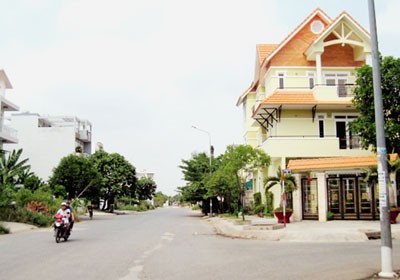 A new residential area in Hiep Binh Chanh Ward of Thu Duc District (Photo: SGGP)
Several districts have hundreds of new residential areas marked and approved by authorized organs with proper plans. Regulations for these plans clearly demarcate areas for housing, parks, traffic and other public works. However, several investors build over public space regardless and are raking in huge profits from such illegal constructions.
Transformers have been set up over green belts in Thanh My Loi Ward in District 2 and Nam Sai Gon in Nha Be District. Binh Trung Dong Ward in District 2 has three football grounds on the land meant for a green belt and a reservoir.
Investors of a housing project meant for civil servants and government officials in Tan Phu District and Phu Long Residential Area in Nha Be District have built parking lots across green belt areas.
According to a report from the Department of Construction in HCMC, in upto 14 residential projects in Districts Nha Be, Tan Phu, Thu Duc and 2, most of the investors have encroached public demarcated space to build restaurants, parking lots, houses, high-rise buildings, and villas.
The 28,000 square meter residential area in Ward 17 of Go Vap District has nearly 28 percent area approved for a green belt and 36 percent for traffic works. However, the investor reduced the 20m road to only 12m, and encroached into the green belt for construction of houses.
Similarly in the residential area in Ward 12, permission was given for only 89 houses but the investor increased number to 103 by encroaching into park area and land meant for traffic works.
 
Huy Hoang Garment and Construction Company invested in a residential, administration and commercial area, which was approved by authorized organs in 2009.
The land price there is rather high but customers have been willing to pay, because the residential area is located near Saigon River and has a large green belt area and a 50m wide park along the Saigon River.
After customers paid the amount and took possession of their land, the investor covered 19,000 square meters of the riverside park with 100 villas and houses.
The problem here is actually lax management and abetment by local authorities that allows investors to get away with irregularities in construction plans.