After six years of construction, the irrigation and embankment project for the right bank of Saigon River in districts 12 and Hoc Mon is still incomplete. As a result, floods in the area continue in times of high tides or heavy rains.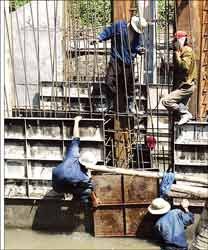 Workers build a drain on the right bank of Saigon River in 2004. At present, the project is still unfinished after six years of construction. (Photo: SGGP)

For example, since the beginning of the year, the sixth section of the project, developed by the Electromechanics Engineering Investment and Consulting Co. in Nhi Binh commune, Hoc Mon district, has been worked on with little care by eight workers.
On the construction site, there are no building materials, apart from a hand-made concrete mixer and some formworks. "No money, what can we do?" said Chin, the foreman.
"There are too few workers for such large work. I do not know when it will be finished," Chin added.
Starting in early 2005, the section was to be completed by the end of 2006, yet just 50 percent of the work is finished.
Le Van Nghi, a resident in Nhi Binh commune, complained, "We do not know what they are doing, but after three months they have failed to finish work on such a small drainage, while causing a lot of damage to hundreds of hectares of fruit trees for the past few years.
"If they continue that way, some day people here will die of starvation," he added.
Tran Van Hung, who is in charge of irrigation of the commune, said, "We have made a lot of suggestions, but the situation has not improved, it's having a great impact on people's lives".
The project was approved by the Ministry of Agriculture and Rural Development in April 2001, with an initial investment of over VND152 billion. Since then, many documents have been issued in relation to changes to construction plans, but it could not move ahead.
Recently, the project has been reported to have been handed over to HCM City, but a final decision on this has yet to be made.
The situation has made the project come to a standstill. Whenever it rains heavily or high tides come, the local authorities and people have to continue coping with floods.