On behalf of the Japanese Government Japanese Consul General Nakajima Satoshi in Ho Chi Minh City signed agreements on non-refundable aid of US$530,455 to six projects in Vietnam as part of local non-refundable assistance program at the headquarters of Consulate-General of Japan in the city on March 9.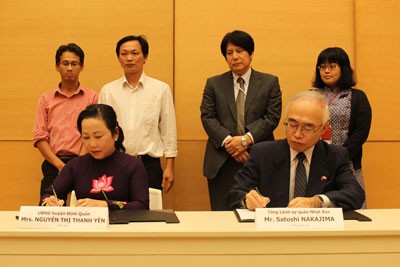 Japanese Consul General Nakajima Satoshi and Ms. Nguyen Thi Thanh Yen chairwoman of the southern province of Dong Nai's Dinh Quan District People' Committee sign an agreement on non-refundable aid (Photo: Courtesy of Japanese Consulate General)
Representatives of aid recipient organizations signed the agreements with the Consul General.
The list of recipients includes Union of Friendship Organizations in the Mekong delta province of Kien Giang, People's Committee in Cu Kuin District of the highlands province of Dak Lak, People's Committee of Dinh Quan District of the southern province of Dong Nai's, the Rehabilitation Hospital in the central province of Ninh Thuan and the Vietnam Support for the Handicapped Association.
The sume of money will be ussed for building six bridges in Kien Giang and Dong Nai provinces, aiming to help inhabitants there easily travel, building five classrooms of Ea Mta Primary School in Dak Lak province, buying medical equipment for Ninh Thuan Province's Rehabilitation Hospital and the General Hospital in Ham Thuan Nam District of Binh Thuan Province.
US$90,909 will be spent to build the Rehabilitation Center in Medical Clinics in Tan Bien District of Tay Ninh Province to improve treatment quality for these disabled people in the province and neighboring provinces.
Three days before the Japanese Government Japanese Consul General Nakajima Satoshi in the city also promised to aid US$ 580,000 to similar projects in southern provinces.
The Japanese Government provided un-refundable aids to 158 projects in 26 southern provinces worth US$ 12 million since 1995 to 2015.