Kobe beef is a quality luxury food from Japan. The Japanese cattle are fed organic grain, beer, and sake. They create a beef product with a good flavor and a tenderness that melts in your mouth.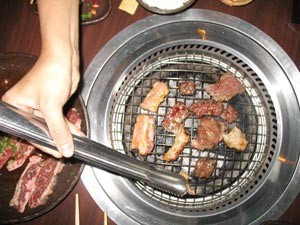 Grilled beef and pork at Uraetei in Ho Chi Minh City (Photo: Tuong Thuy)
If you are in Ho Chi Minh City and looking for Kobe beef, Uraetei BBQ Restaurant is where you can try.
The Japanese restaurant is located on Ngo Van Nam Street in an area nicked as a Japanese little town near the corner of Le Thanh Ton and Ton Duc Thang streets. Director Akira Fukuda from Osaka is also the boss of the five other Uraetei BBQ restaurants in his country, Japan.
Grilled Kobe beef is served at this restaurant. Star in the menu of this restaurant is Yakiniku, grilled meat which is cooked and eaten in Japanese traditional style with choice of beef tongue, belly beef, beef shoulder with bone, beef artery, beef intestine, fatty pork, pork stomach, pork intestine, US beef rib and Kobe beef. Diners can pick the meat they like and grill their way right at their table.
Uraetei here also serves seafood, fresh raw beef, smoked chicken, fried pork cutlet, seafood pizza, bacon, onion roll, salad, soups, noodles, rice and stone grill, cooked in modern Japanese style. Japanese hot pots are also in the menu.
Akira Fukuda says he engaged Japanese architect Ueki from A&T Company in Tokyo to design his Ho Chi Minh City restaurant to make it Japanese, for all three stories here. The Osaka man says average investment for an Uraetei restaurant in his country is US$800,000, and he has invested about half of this level for his Vietnam business.
The Uraetei restaurant has operated in Ho Chi Minh City for five years. This August, it moved to the current location from the earlier one on Vo Van Tan Street, District 3.
The eatery opens daily for lunch from 11:00am to 2:00pm and dinner from 5:00pm to 10:30pm. It also serves set lunch with price from VND70,000 (more than US$3.5).
"Many people think that Japanese food is expensive. It is not always true. Even at a high-grade Japanese restaurant like Uraetei, you can enjoy a good lunch but don't have to spend too much money", says restaurant manager To Hue Anh.
Director Fukuda says he has plans to open another Uraetei restaurant in the city but will not do this until the conditions allow. He adds the number of diners has doubled since he moved his eatery to the "Japanese little town" this August, and the amount of Vietnamese customers has also increased.