Nikken Sekkei, a design-oriented construction firm in Japan, will work with the Ho Chi Minh City Department of Urban Planning and Architecture to draw up a plan for developing Nha Be, Can Gio, Hoc Mon and Cu Chi districts from now to 2025.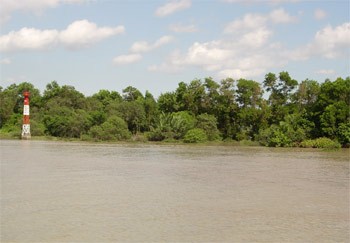 Part of the mangroves in Can Gio District (Photo: KK)
In the case of Nha Be, the planners must take into account the district's natural environment and incorporate a suitable model of urban development, the Ho Chi Minh City People's Committee said when giving its permission to the department to hook up with the Japanese company.
With Can Gio, a 12-kilometer section of the coast along with the mangroves and the old guerilla base of Rung Sac must be fashioned into a "center of ecotourism".
In Hoc Mon, the most important part of the planning is the system of roads and rivers for transport to and from the city center, especially the roads along the banks of the Saigon River that also pass through Go Vap, District 12 and Cu Chi.
Cu Chi itself, or at least the center of the rural district, is to become a satellite town of historical, cultural and economic significance.