The Japan International Cooperation Agency (JICA) said the agency willing to introduce and advice experienced Japanese businesses to collaborate with HCMC under Public Private Partnership (PPP) model, said executive senior vice president of JICA Kazuhiko Koshikawa on Friday.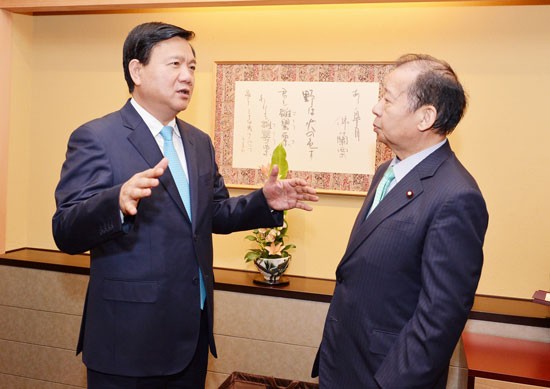 HCMC party chief Dinh La Thang (L) talks to secretary general of Liberal Democratic Party Toshihiro Nikai on Apirl 7 (Photo: SGGP)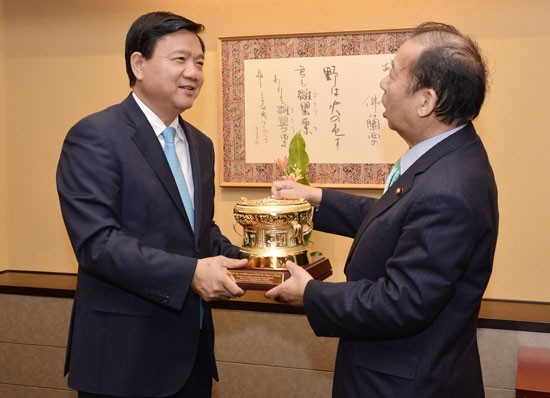 Secretary Dinh La Thang (L) gives Mr. Toshihiro Nikai a present (Photo: SGGP)
He was speaking in response to proposals by HCMC party leader Dinh La Thang, who has been leading a high level delegation in a ten day visit to Japan.

Besides, JICA is also ready to liaise with the city in technology transfer, human resource training to operate and maintain metro routes, he affirmed. The agency would work with Asian Development Bank to continue assisting HCMC to implement the third phase of the city's water environment improvement project.

Mr. Kazuhiko Koshikawa estimated the Vietnam-Japan relationship has well developed and HCMC is a major locality where Japan has supported carrying out many projects. By the end of fiscal year 2016, the Japanese Government has signed two financial aid contracts providing the city JPY145 billion (US$1.31 billion) for the first metro route and the water environment improvement project.

He underlined the importance of synchronous traffic development, pledged that JICA will contemplate financial aid to HCMC's metro routes 3A and 3B and proposed the city's leaders to keep supporting JICA financed projects so that they will be implemented advantageously and quickly.

At the meeting, secretary Dinh La Thang appreciated official development assistance (ODA) funds of the Japanese Government to the city's environment improvement and infrastructure development such as East West Highway or Vo Van Kiet Boulevard, Metro line Ben Thanh-Suoi Tien and HCMC-Long Thanh-Dau Giay Expressway.
Japan has been the largest ODA sponsor of Vietnam. HCMC considered infrastructure building from Japanese ODA source as an important factor to boost foreign investment into Vietnam and the city.

Basing on the well developed relationship between HCMC and JICA through projects for the last past, HCMC hoped that the agency will continue providing ODA loans for the city to conduct the third phase of the water environment improvement project in the valley of Tau Hu-Ben Nghe-Doi-Te canals. This is a significant project to the city's target of anti-flooding and urban planning.

He expected that JICA to continue financing and assisting HCMC through ODA funds and technical service supply for the city to implement urban railway projects 3A and 3B; lengthen the first metro route Ben Thanh-Suoi Tien by about two kilometers to the neighboring provinces of Dong Nai and Binh Duong; build walkways, square and public auxiliary works at Ben Thanh underground trade center; upgrade water supply system.
The municipal authorities have strived to improve investment environment to receive foreign investors comprising Japan, expected to become the largest investor in HCMC. They want to see more Japanese investors in hi-tech application in many fields including agriculture.

HCMC calls on investors to 95 PPP projects worth $5.4 billion

On the same day morning, Mr. Dinh La Thang paid a courtesy visit to special advisor to the Japanese Prime Minister Hiroto Izumi who is in charge of carrying out overseas infrastructure projects of the Japanese Government.

Talking to Mr. Izumi, Mr. Thang said that HCMC considered PPP investment as a necessary capital mobilization channel for the city's important infrastructure projects admit limited city budget and ODA funding.

HCMC has signed contracts and implemented 20 PPP projects with the total capital of VND67,233 billion (US$2.96 billion), mostly in traffic and environment. Of these, 10 projects have been carried out under BT (Build-Transfer) contracts, nine under BOT (Build-Operate-Transfer) and one under BOO (Build-Own-Operate).

The city Department of Planning and Investment is now building a list of PPP projects calling upon investors concerning various fields such as traffic, environment, health, culture and education.

Currently, HCMC is calling on investment in 95 PPP projects with the total capital of VND212,433 billion ($5.4 billion) and plans to establish a steering board to speed up the progress of such projects. Since 2015, the city has successfully invited investors for 24 PPP projects with the total funds of VND37,893 billion ($1.67 billion).

During the visit, the HCMC delegation will visit a toll road built under PPP form in Aichi.

HCMC hoped to receive prestigious investors from Japan to develop PPP projects, ensure their quality and progress, stressed Mr. Thang.

Welcoming the city delegation's visit, Mr. Hiroto Izumi affirmed that the relationship between Japan and Vietnam has been better and better.

As a Japanese citizen, he sincerely thanked Vietnam's senior leaders and people for their royal and thoughtful treatment to the Japanese Emperor and Empress during their week long trip to Vietnam starting on February 28.

According to Mr. Hiroto Izumi, Japan's standpoint to ASEAN is tight cooperation especially with the ASEAN Economic Community. HCMC is the gateway to the Mekong-India Economic Corridor, which enhances the connectivity between HCMC, Phnom Penh, Bangkok, and Dawei by road, and further to Chennai in India by sea route. Therefore the city's infrastructure development plays an important role to the above region and ASEAN.

With that importance, Japan would closely work with HCMC in the upcoming time, he said. The Japanese Government would continue technology transfer to the city and mobilizing Japanese businesses to invest in Vietnam because of increasing opportunities there.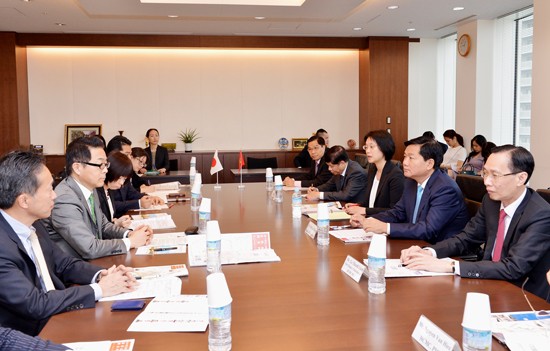 The meeting between HCMC party chief Dinh La Thang and executive senior vice president of JICA Kazuhiko Koshikawa on April 7 (Photo: SGGP)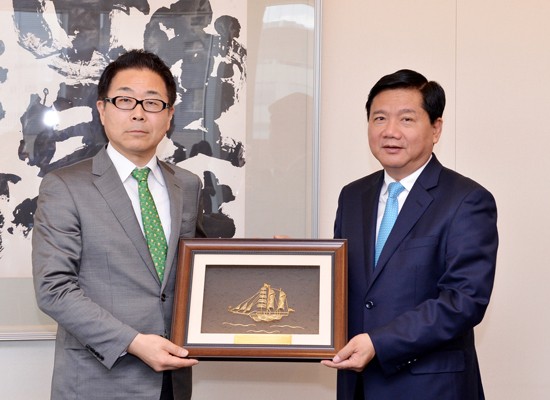 Mr. Dinh La Thang gives Mr. Koshikawa a souvenir (Photo: SGGP)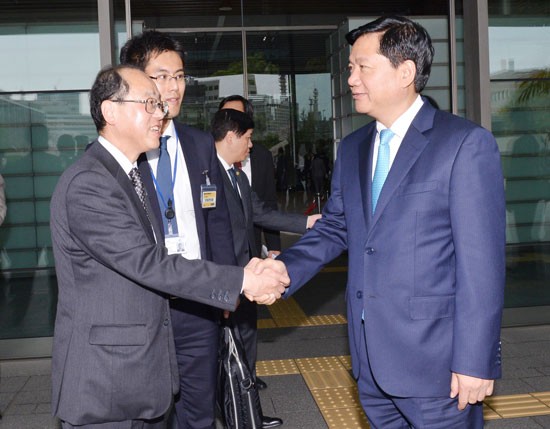 Mr. Hiroto Izumi, adviser to the Japanese Prime Minister receives Mr. Dinh La Thang (Photo: SGGP)

Related article: