More than 100 companies in Ho Chi Minh City are offering placements for around 3,000 jobs for accountants, office workers, nursery teachers, translators and technicians under a year-round Job Assistance Program.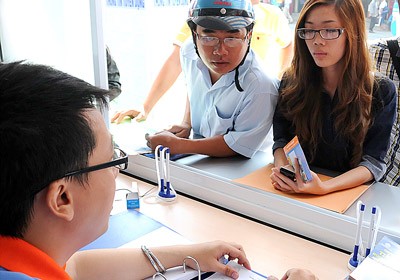 Jobseekers consult a volunteer worker in HCMC (Photo: SGGP)
The program was officially launched on February 25 this year.
Volunteers for the program are based in offices at four bus stations, namely, Mien Dong, Mien Tay, An Suong and Nga Tu Ga, who help jobseekers with information on bus routes, credible motorbike taxi drivers and rental rooms at reasonable rates.
They also provide jobseekers with information on career training courses as well as skills and knowledge on how to give good interviews.
The Job Assistance Program offices are open from 7.30-11.30am and from 1.30-5.30pm on weekdays and only in the mornings on Saturday.
Jobseekers can dial 1088 to consult on job vacancies and related information.
At present, about 100 businesses are listed under the program with 3,000 placement offers.