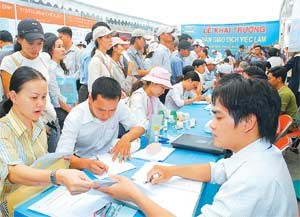 Job seekers register for interview at the fair.
Over 1,000 workers were selected at a job fair opened yesterday by the Ho Chi Minh City Center for Employment Services in Binh Thanh District.
An organizer of the event said that more than 15,000 people are expected to attend the three-day fair.
Apart from 50 enterprises presenting at the fair to seek for employees, more than 150 companies have online exchanges with the participants on the two websites www.vieclamhcm.net and www.vieclamhcm.jobvn.com.
"The companies are very well prepared for this fair and they will provide the jobseekers with necessary information as well as advisory about the job. On the first day of the fair, there were 1,007 workers among over 2,700 interviewees were selected," Mr. Tran Hieu Liem, Director of the HCMC Center for Employment Services, told SGGP reporter.
"Around 2,000 people have visited the two website and I estimate that 30% of them will be generated with jobs," Mr. Liem said.