Compensation paid for land acquired by the city will be set in alignment with market prices, according to a resolution passed by the Ho Chi Minh City's People's Committee yesterday.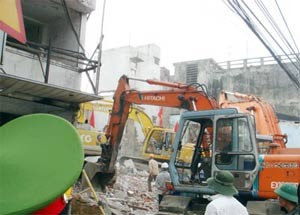 Houses are demolished to make space for new construction projects
The rate will be determined by the land's use and a price will be set by the HCMC People's Committee during the acquisition process. If there is a difference between the price offered by the city and the land's market price, relevant officials will have the responsibility to adjust the city's offer.

The city will also grant VND3 million (US$190) to each household for the expense of moving to another place inside the city and VND5 million (US$310) to those moving out of the city. In addition, each individual will be given VND500,000 to VND1 million (US$31 to US$ 63) to resettle and resume their business.

City officials have been ordered to review all current construction projects to adjust site clearance compensation plans so that they comply with this decision.

Households in District 2 who already received compensation for their land are not entitled to any additional compensation under this resolution, according the Compensation Department.

This resolution replaces a resolution issued in 2005 which provided that compensation to those resettled during site clearance will be determined without reference to market prices.