Before dawn on June 24, a landslide buried four houses in the Nha Be River and caused depressions and cracks in several adjacent buildings in Binh Khanh Commune in Can Gio District of Ho Chi Minh City.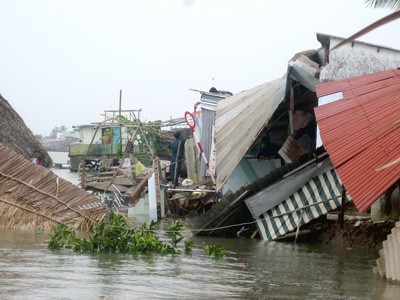 Several houses collapsed into the Nha Be River on June 23
Huynh Van Mach, who lost his house in the landslide, said that as soon as he switched on the light he heard a crackling sound at 11pm on June 23 and saw his house wall falling apart.
He rushed to save his children and ran out with them on to the street, even as the rest of his house gave way into the river together with all his worldly possessions.
Foundations of three nearby houses have also sunk after the landslide that covered a length of 100m and tens meters inland.
Local authorities together with police and civil defense forces were present at the site to help evacuate furniture and belongings of the affected residents till late at night.
Huynh Cach Mang, chairman of the People's Committee of Can Gio District, said that they are investigating the cause of the landslide and estimating damages. They have also given financial assistance to those who lost their homes.
The district will soon propose measures to remove households who are still located in some of the highly landslide prone areas along the Nha Be River.