The nation's largest solar power plant was inaugurated in Can Gio district in Ho Chi Minh City on January 27.
Vice Chairman of the municipal People's Committee, Hua Ngoc Thuan participated in the inaugural ceremony in the Thieng Lieng-Can Gao island commune in Can Gio District.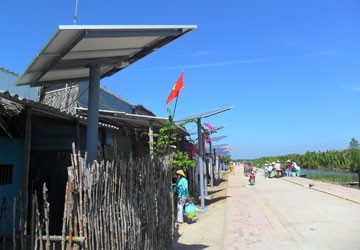 A household in Thieng Lieng Island uses solar power
The system has a capacity of 525 wp and was built at a cost of VND14.8 billion (US$ 7,600,000). It was sponsored by the Ho Chi Minh City Power Corporation and the Duyen Hai (Can Gio) Power Company is the chief investor.
This power plant will benefit 172 local rural households out of the existing 204 households in the Thieng Lieng-Can Gao island commune.
Pham Quoc Bao, deputy head of HCMC Power Corporation said that solar power is considered the most effective, cheap and environment friendly way to generate electricity.
This was also the only viable solution to providing electricity to the island as workers could not drag electric lines across the island.
Huynh Cach Mang, Chairman of Can Gio's People's Committee said two villages of 170 households in the Thanh An island do not use electricity because they choose to live in the woods to protect the jungle.
Mr. Thuan said the city would invest in more electricity projects to supply power to remote and distant areas to improve the living conditions of the people. He also disclosed that the city plans to ask related agencies to invest in electricity projects to provide power for medical clinics and low populated areas in suburban districts like Binh Chanh, Hoc Mon and Cu Chi.
The city had approved on a solar power project to benefit residents of Thieng Lieng village on September 13, 2010 and the construction of which began early this year.