More than 11,000 people are expected to participate in the Lawrence S.Ting charity walk in Ho Chi Minh City on January 22 to raise money for the poor as part of the celebrations for Lunar New Year Festival (Tet).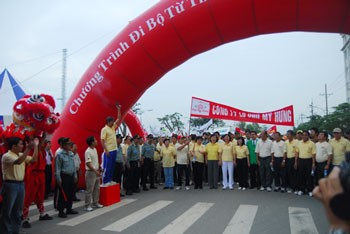 The 4th Lawrence S.Ting charity walk is organized in 2009.
Participants will walk about three kilometers in the 6th event, according to the deputy director Bui Thanh Son of Phu My Hung Joint Venture Company, which is the chief organizer.

The company has also mobilized other organizations, enterprises and sponsors to donate nearly VND3 billion (US$150,000) to help the poor people in the city to enjoy a warm and joyful Tet.
The Lawrence S.Ting Charity Walk has over time attracted more than 66,000 participants and donated more than VND6 billion to the poor during the last five years.
In other related news, more than 100 staff members and agents of Saigon Construction Corporation participated in a Blood Donation camp, organized by the Vietnam Red Cross at their company headquarters in HCMC on January 18.
Meanwhile the People's Committee of District 3 will host a concert at Phan Dinh Phung Sport House on January 21 to raise funds for disadvantaged people. The show organizers have collected over VND84 billion from over 100 organizations, enterprises and sponsors.