On November 5, the HCMC Youth League Congress officially closed and 449 delegates elected Le Quoc Phong as Secretary of the HCMC Youth League for the term 2012 to 2017.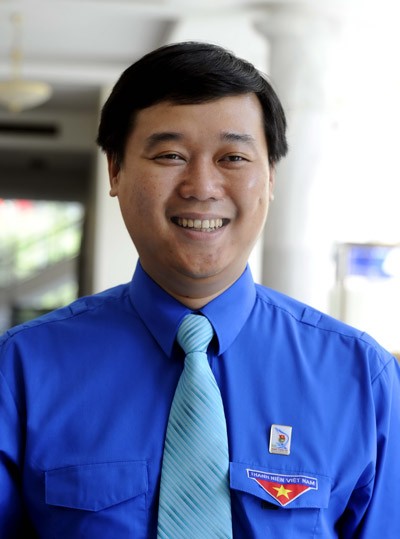 Le Quoc Phong (Photo: SGGP)
Phong was born in 1978 in Hanoi and is Deputy Permanent Secretary of the League and the Chairman of the HCMC Student Association for many years.
On this occasion, SGGP interviewed Le Quoc Phong about the contents of Union activities in his new term.
The Communist Youth Union in Ho Chi Minh City has long been a lifebuoy for young people since it was mobilized, and carries out practical campaigns for community welfare, Phong said.
Replying to reporter's questions, Phong generalized some plans to portray a model city in the future and its youth to be patriotic, with lofty ideals, national pride, good health, knowledge, culture, skills together with a standard of living with responsibility to all.

He added that the League will provide information for members and to the youth on Vietnam's Islands and archipelagoes, organize activities to provide comprehensive and accurate information such as exhibitions of photos and books on Hoang Sa, Truong Sa, and hold art programs that bring together young artists.
"In the 9th term we will establish a campaign 'City youth, border and the Islands", Phong stated.
The main objective of this program is to equip the city youth with enough information on the sovereignty of the sea and islands and the continental shelf of the nation.
Le Quoc Phong said that "Guaranteeing social welfare is a focus of the Union and thanks to the benefits brought about by the Union many youth have volunteered to take part in its programs and campaigns."
"They consider it their responsibility to the community," he stressed.
The campaigns include the organization of collective weddings, donating houses and bus tickets on traditional lunar festival (Tet), and distributing medicines to needy people in Ho Chi Minh City and other localities.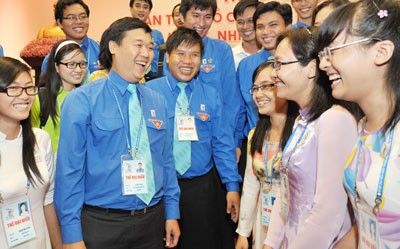 Le Quoc Phong (C) newly elected Secretary of the Communist Youth Union in Ho Chi Minh City (Photo: V.Dung)
The campaigns have become the 'trademark' of the Union in recent years and a 'hallmark' for beneficiaries.
The Union also organizes trips to remote localities in Vietnam to distribute free medicines to poor people.
"Whatever difficulties we face, we manage to overcome them so that we can offer joy to orphans," said Le Quoc Phong.
It is the Union that organized other programs like the 'Little Rose Festival' and 'Warm Family in Spring' to encourage orphans and disadvantaged people.
In addition, the Support Center for Students under the Union has played a great role in helping students in remote areas come to HCMC for the first time to study. The center mobilizes donations from sponsors and philanthropists to give students free bus tickets and help them look for jobs and boarding houses.
The center transfers at least 2,000 free bus tickets to poor students every year, but there is still more demand, as almost 6,000 poor students are still in need.
The Union also mobilizes state agencies to install electricity and water gauges at boarding houses to help migrant workers in industrial parks.
"It is often thought that we are giving away gifts, but honestly, we do receive more than that. It is the value of life," said Phong, new head of the Communist Youth Union in Ho Chi Minh City.