Ho Chi Minh City leaders have failed to effectively address a host of public concerns including traffic congestion, floods and food safety, said members of the city People's Council at the opening of the 17th session December 8.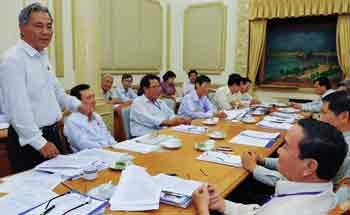 City People's Council members discuss the report on city's social-economic development by the People's Committee on Dec. 8, 2009. (Photo: Viet Dung)
Also criticized by the Council were the city's administrative procedures, environmental pollution, and overcrowding in hospitals and schools.
After listening to reports read by the People's Committee, members of the Council unanimously agreed that city officials, namely the People's Committee, had yet to resolve most public problems.
Mr. Duong Quan Ha, president of the HCM City Father Front, said voters had voiced concern over issues for several years but nothing had been tackled effectively.
He said complicated bureaucratic policies and corrupt practices had contributed to the city's problems.
Complicated administrative procedures involved in granting construction licenses had slowed down the building of new schools, which city children badly need, he added.
This issue needs to be prioritized, Mr. Ha said.
Ms. Nguyen Thi Le said that while the public has continually complained of a decreasing quality of life, city leaders have taken no decisive action. This needs to change, she said.
Severe traffic jams, frequent floods and environment pollution are taking a serious toll on the lives of residents, she added.
The discussion heated up further when the issue of recent food hygiene and safety scandals was brought up.
Mr. Pham Van Hai said that local authorities complained they did not have enough resources to effectively improve food safety in the city.
Unsafe street food sends more people to hospitals, he added, worsening the problem of overcrowded hospitals.
Mr. Dang Van Khoa, a regular critic of the Committee during People's Council sessions, said city leaders were more talk than action. He said several problems had only worsened and that many Committee suggestions were simply unfeasible, especially when it came to issues of traffic and floods.
Discussing this year's city growth of 7.5 percent, the Council said it was a commendable figure considering the global economic recession. Council members added, however, that the city should learn from defining such an ambitious development target.
Mr. Pham Minh Tri said that last year the People's Council judged it was too difficult to reach growth of 10 percent. But the Committee refused to adjust the target and had no reply to the Council.
The city failed to reach its target this year because of the Committee's subjective judgments, he said.