District government agencies' leaders should review their accountability before blaming citizens, for instance they should see if they have placed enough public rubbish bins and toilets before criticizing those littering or relieving themselves along roadside spots, said secretary of the Ho Chi Minh City Party Committee Dinh La Thang at a meeting with District 7 leaders yesterday.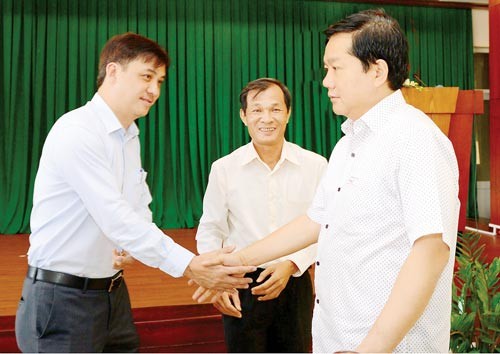 Secretary Dinh La Thang talks to District 7 leaders on August 12 (Photo: SGGP)
Similarly, other districts should reconsider if they have taken strong actions and found everyway to mobilize all possible resources to solve problems in their localities.
Reporting to Mr. Thang, Secretary of the district Party Committee Nguyen Van Dieu said that District 7 was established in 1997 with nearly 91,000 people.
The population increases to over 318,000 now and is expected to reach 420,000 by 2020, putting a large pressure on the district's infrastructure especially urban traffic.
70 percent of 65,000 workers at Tan Thuan Export Processing Zone come from other provinces and cities, but the zone has only three housing sites accommodating 2,000 people. The remaining workers have to live in rental rooms.
The district has 1,532 children of workers but has only one nursery school which is able to receive 510 kids.
Answering Mr. Thang's questions that how many cultural works and nursery schools the district will need with 420,000 population, an official said it was unclear.
Unsatisfactory with the answer, Mr. Thang required local authorities to give specific requirements when saying their population will increase to 42,000 people.
He proposed the district's secretary, chairman and leaders of agencies to grip practical conditions and put forward solutions. All targets must be publicly announced to citizens.
Reporting administrative reform, chairman of the district People's Committee Le Hoa Binh said that licensing time of house construction has reduced from 15 to 7 working days, plan adjustment from 45 to 30 days.
The district has been striving to reduce land use right and house ownership certification time from 30 to 20 days. Many measures need to be implemented synchronously because the number of unsolved documents is too huge in the district now.
Mr. Thang asked local leaders to urgently solve the issue and remind them of defining responsibilities to prevent a vagueness and adequation from occurring and creating conditions for them to pass the buck.
He prompted the district to resolve two old tenements, improve eight main alleys within two years to take time for over 1,900 side alleys. It should call on social investment to remove 2,000 houses on and along canals in the term of 2016-2020.
District 7 has Phu My Hung new urban area where 13,500 foreigners are living and working. However the ratio of poor households and those living near the poverty line is high topping 3,300 accounting for 4 percent of the district's total households.
Secretary Dinh La Thang asked District 7 to pay attention to taking care of citizens' lives to shorten the distance between the rich and the poor.
Local authorities should review their plan and development strategy to learn from experience and make adjustments to suit the reality.