The opening is to enhance the business relationship between Vietnam and German as well as support Leipzig's businesses in investing in Vietnam in general, HCMC in particular.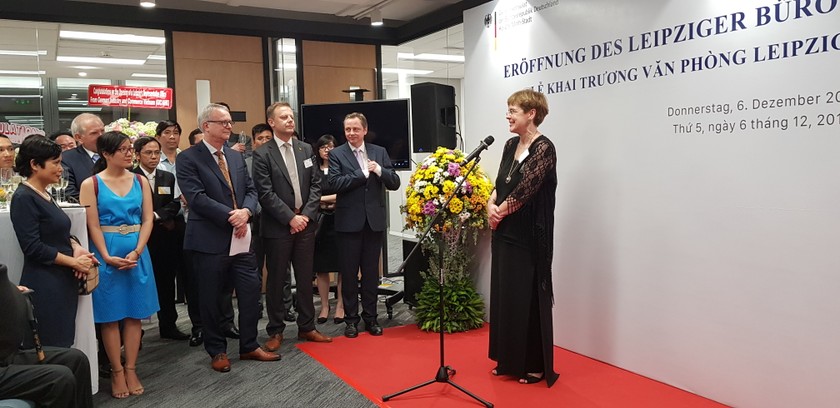 Photo: K.M
German Consul General in HCMC Mr. Andreas Siegel, Mr. Torsten Bonew –Vice Mayor of Germany's Leipzig City and 120 representatives from German organizations, enterprises in HCMC and Vietnamese enterprises, departments, agencies attended in the ceremony.
Speaking at the opening ceremony, Mr. Andreas Siegel said Vietnam and Leipzig have a long term relationship, not only in the business but also in another fields like education, cultural and technology exchanges. The launching a representative office of Leipzig in HCMC is also aimed at increasing cooperation, strengthening the relationship and opening many investment opportunities for the two cities' enterprises.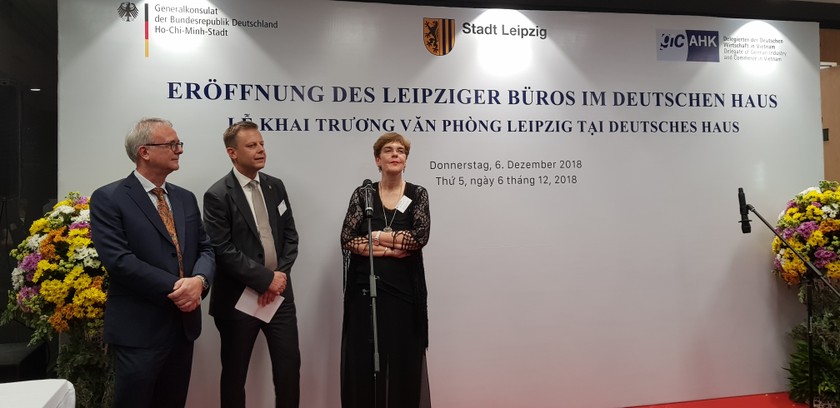 German Consul General in HCMC, Vice Mayor of Leipzig City at the ceremony -Photo: K.M
Vice Mayor Torsten Bonew affirmed Ho Chi Minh City and Leipzig ever signed an memorandum of understanding in 2015, in which the cooperation of both cities in the following fields are in focus such as health, economy, energy and environmental technology, sustainable urban development, science, education & training…He hoped that representative office in HCMC will create further favorable conditions for cooperation between the two cities.
Within the past years, the economy of Leipzig rapidly developed and transformed the city to one of the strongest cities in Germany. The current export quote exceeds 47 percent which ensures the competitiveness of Saxonian companies on a national and even international level.
However, not only the economic situation makes Leipzig so attractive but also the cultural activities and educational opportunities emphasize the city. Leipzig is also one of the most popular student cities in Germany. Up to 30,000 new students register to the university yearly.